트립포즈 쿠폰을 제시하는 손님께 아래내용의 서비스를 제공해주세요.


| | |
| --- | --- |
| 60,000 Free betting coupon + Gifts | CODE_1831: WATERTREE (Trippose.com) 50,000 won free betting coupon + 10,000 won machine ticket + souvenir |
| 6만원 무료배팅쿠폰 + 기념품제공 | CODE_1831 : 워터트리(WATERTREE) 5만원 무료배팅쿠폰 + 1만원 머신 티켓 + 기념품제공 |
Notice (date of use:2023-12-31)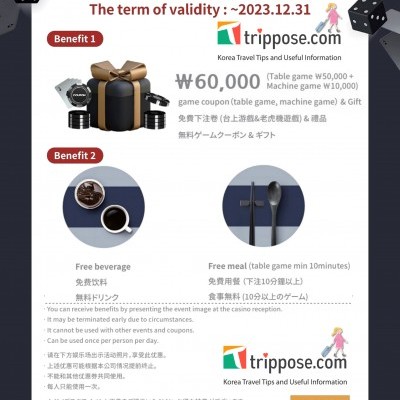 Seven Luck Casino in SEOUL DRAGON CITY
Seven Luck Casino in GANGNAM COEX
Seven Luck Casino in BUSAN LOTTE
1. 60,000 Free betting coupon(Limited to one coupon per person)
2. Provide free souvenir
※Present this coupon on your phone to the staff.
※This Coupon cannot be combined with other coupon
※Please check whether the shop is a member store before using the coupon.
※This coupon can use only one time per person
※Coupon can be used only at Seven Luck Casino (GANGBUK MILLENNIUM SEOUL HILTON, GANGNAM COEX, BUSAN LOTTE)
※Coupon can be used only by foreign tourists.
※Need passports to join our stores.