Renewal:2019-03-29 16:14:34
WIDE-MOBILE Pocket Wi-Fi Rental in Korea 와이드모바일 포켓 WI-FI(와이파이)
+82-2-775-1041

http://www.widemobile.com/?trippose

4.8

/

5
(인천광역시 중구 공항로 271 1층 7번출구)
'Tripose.com' x WIDEMOBILE Global
Wi-Fi Take out (Mobile Hotspot) Reservation site
Take the internet with you anywhere in Korea
What is a Wi-Fi Take out (Mobile Hotspot)? It is a Wi-Fi router terminal, a device that changes LTE signal of carrier to Wi-Fi signal and allows you to freely use the Internet while traveling in Korea with mobile, tablet, and laptop.
Enjoy Wi-Fi Take out (Mobile Hotspot) from anywhere with 99% LTE coverage
LTE network established through partnership with Korea's 1st LTE coverage carrier
Fast Wi-Fi service through LTE network! Wide coverage area, available from anywhere! You can experience the best wireless service without worrying about your internet connection at speeds up to 100 Mbps.
Are you worried about your first time renting of Wi-Fi Take out(Mobile Hotspot)?
Company Certified by the international airports!
Incheon, Gimpo, Daegu, Cheongju, Gimhae, and Busan International Passenger Terminal!
Get Wi-Fi Take out (Mobile Hotspot) from anywhere in Korea!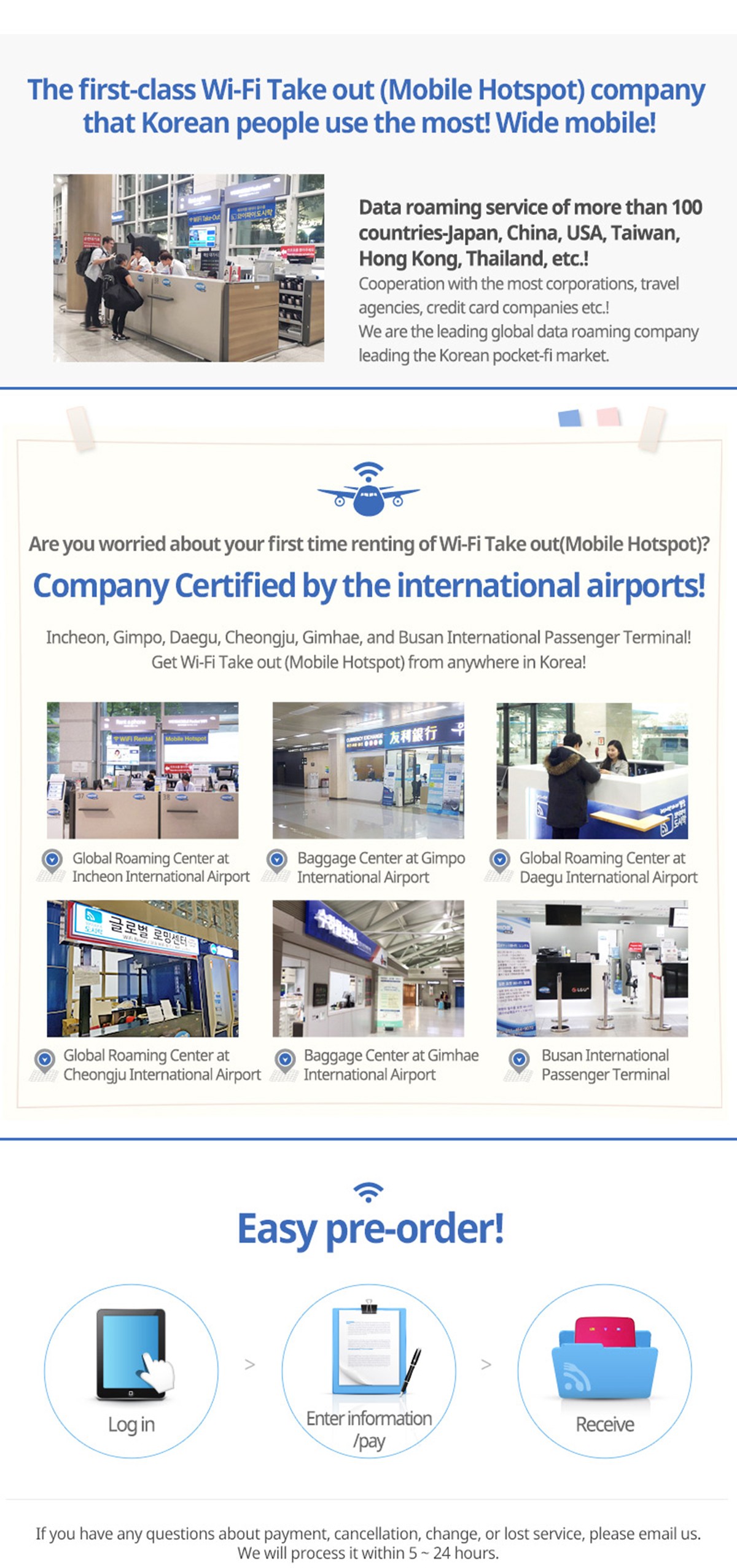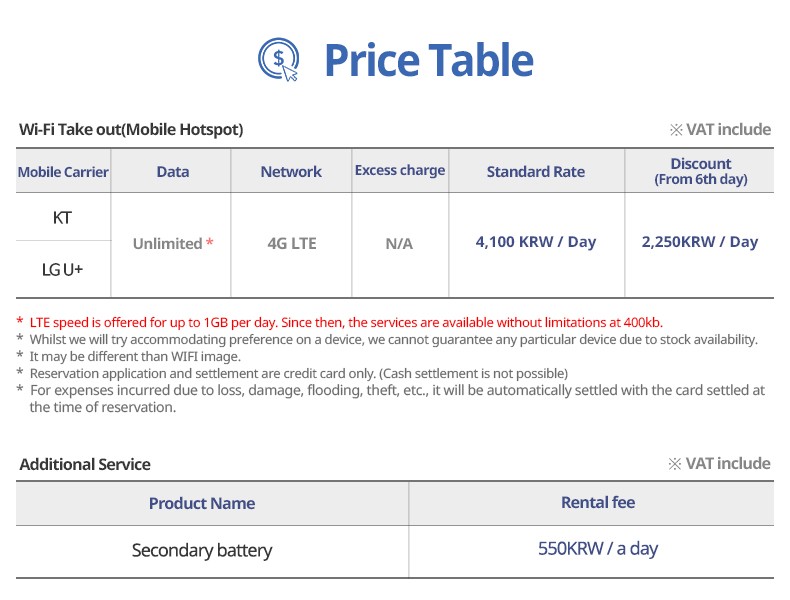 *Incheon International Airport 1Terminal : 24 Hours (365 days)
*Incheon International Airport 2Terminal : 24 Hours (365 days)
*daegu International Airport : 05:00 ~ 22:00 (365 days)
*Gimpo International Airport : 06:00 ~ 21:00 (365 days)
*Busan Port International Passenger Terminal : 06:30 ~ 19:30 (365 days / may vary according to international ferry schedule)
*Gimhae Airport (International Terminal) : 05:30 ~ 22:30 (365 days)
*Cheongju International Airport : 06:00 ~ 22:00 (365 days / may vary according to international flight schedule)
*Seoul Customer Center(Main Office) : 09:00 ~ 18:00 (weekend & holiday is not available.)

* General payment method for your reservation is to pay on arrival. However, it may be subject to change depending on your reservation route.
* In the event of lost of a device or damage done during the term of rental, we will be charging additional fees in future.
* Arrival and Departure date must be accurate in order for you to pick up and return the device on time.
* Rental period should start from your device pick up date until the device returning date.
* The airport operation hours are based on Korea standard time. Pick-up is unavailable when the airport is not in operation. (Please check the clock on the right side)
* Please return the device before departure procedures.
(After the check-in procedure, you must return it using international parcel services such as EMS or DHL, and the cost of the international parcel service and the additional rent up to the date of arrival will be borne by the customer.)

* In the event of cancellation, you will need to contact us two days before your pick-up date in order to get full amount to be refunded.
* Unfortunately, we will not be able to refund the unused credit for early termination.
* You agree not to use the internet service for activities that are illegal in Korea.
* Reservation to be made at least 2 business days in advance to place an order.
* In the event of Cancellation of reservation due to run out of stock, you will get your full rental fee back as well as your deposit.
* Any details that are need to be changed, please contact us via e-mail before your reservation is confirmed. (It is your responsibility for any problems occurred due to wrong information is given when placing an order)
* Once your reservation is confirmed, we will send you a confirmation of reservation to your e-mail. Your confirmation of reservation is necessary when picking up your device.
* If you wish to extend your rental period or are not be able to return a device for any reason, please contact us, otherwise we will deactivate the device and additional charges may occur.
FAQ and Notes
*Wi-Fi Take out
Does it have a data limit?
The recommended average datausage is 1GB/Day, if massive data occurred on one line, carrier will consider the line in abnormal status will suspend the line temporarily
How many devices can it be connected simultaneously?
It can be connected with up to 5 devices at the same time.
Do you provide a device charger?
Yes. we provide a device charger. Also it comes with a Wi-Fi device, a pouch, and an instructions.
Will a device be fully charged?
Yes. We always charge a device before we hand it out.
If my mobile phone is in 3G network, can I still use the Wi-Fi?
4G smart phone, 3G smart phone, laptop, tablet pc, and etc. It does work with any Wi-Fi enabled devices.
How do I use a device?
Simply switch on a device and enable Wi-Fi from your devices.
What is the coverage of a Wi-Fi Take?
The coverage is same as a Korean mobile carrier's coverage.
Which mobile carrier is used for a Wi-Fi Take out?
We use LG U+.
How far can a Wi-Fi Take Out signal travel?
Theoretically, it can travel about 50 meters, but it can actually travel around 10 to 15 meters.
Does a Wi-Fi Take Out work with an overseas mobile phone?
Yes. It works with any kind of mobile phone that is Wi-Fi enabled, and you can use Kakao Talk and Voice Talk as well.
*Common
Do you rent a SIM card?
You can get the SIM card with device but not available only SIM card.
Do you accept cards from abroad?
We accept VISA / Master Card / JCB / AMEX
How can i pick up and return your device?
You can pick up the device at Incheon airport, Gimpo airport, Cheong Ju airport, Gimhae airport, Busan port or main office in Seoul. Please specify how and when picking up and returning methods to arrange it in advance.
Where is the main office?
The address is 6F, Chung-Jeong Building, 135, Tongil-ro, Seodaemun-gu, Seoul, Korea the contact number is 1566-9070 business hour 09-18, Lunch time 12-13
When can we receive the reservation ticket, exchange the voucher?
Once you place an order you can print the reservation complete page and exchange voucher.
What documents should I bring when picking up your device?
You need voucher, rental fee and passport.
My trip is canceled. Need refund!
You can cancel your reservation by the confirmation e-mail sent from us, but it can not be canceled once the device is arranged.
What should i do if i need to extend the returning date?
Just give us a call at 1566-9070 (Open all year round) and let us know how much longer you need the device for. Standard daily rental rates will apply, but there is no extra charge for extending your rental period. Please note that if you don't return the device without notice the security deposit of 200,000 won automatically charged as of missing.
Can I get the Wi-Fi without making Online-reservation?
You can get our devices no.7, 1st floor, Incheon International Airport, 24 hours if we keep them in stock. But it is not available to pick up at Gimpo airport, Gimhae airport and Jeju airport with making reservation in advance.

Utilization information
Reservation
| Product | Normal Price | Trippse Price |
| --- | --- | --- |
| WIDE-MOBILE Pocket Wi-Fi Rental in Korea | 2 USD | 2 USD |
| WIDE-MOBILE Pocket Wi-Fi Rental in Korea | 4 USD | 4 USD |
Traffic information
Subway Line A Incheon Int'l Airport (인천국제공항)- 66.3m
Suggested popular information of Coupon in Korea
(Korea Discount Coupon)
Review(3)
安いし補助バッテリーが付いてるのがよかったです。
日本語にも問題なく借りれました。
街中で、まったく問題なく使えましたした。
基本的にはスムーズにつながったので問題ありませんでした。
Good service Good choose Easy to buy I will choose it next time.