Renewal:2019-07-11 19:59:36
2019 SORIBADA BEST K-MUSIC AWARDS + SOBA Blue Carpet and Event 2019 소리바다 어워즈 + 블루카펫 이벤트
(서울특별시 송파구 올림픽로 424)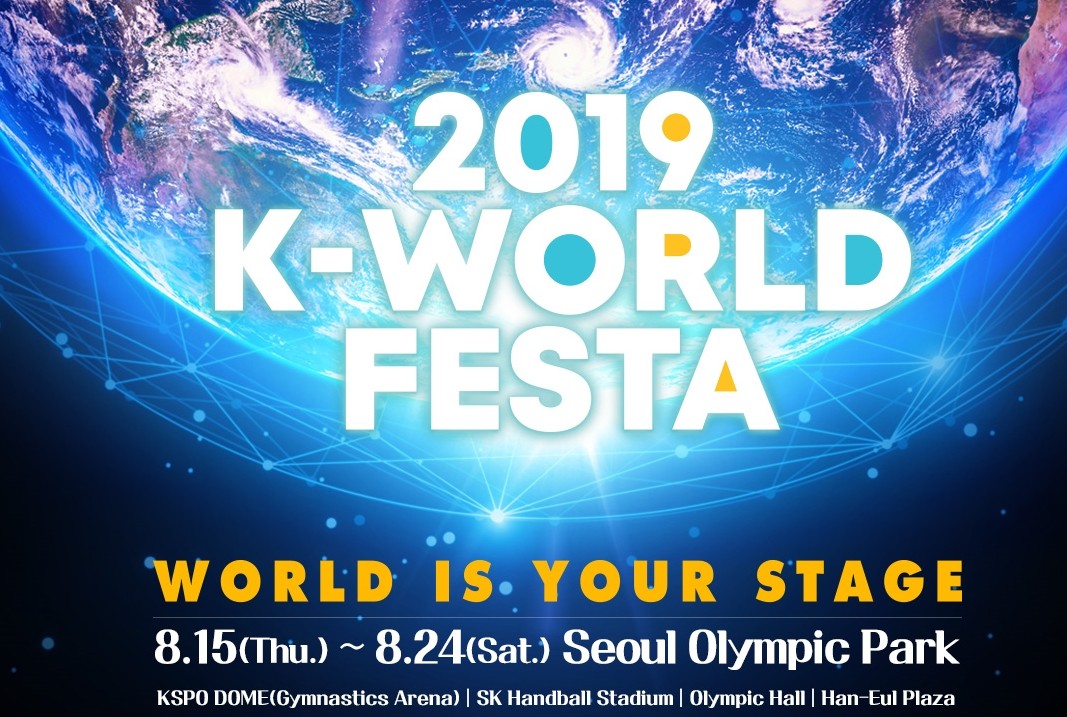 WORLD IS YOUR STAGE
Become one with K-CONTENTS & get ready to fire up your days at #KWORLD_FESTA
2019 SORIBADA BEST K-MUSIC AWARDS + SOBA Blue Carpet and Event
- Highlight -
From August 15 to August 24, 2019, all together 10 days!
Let us invite you to the fantasy K-pop celebrations before the end of summer!!
Hallyu festival, 2019 K-WORLD FESTA, will be held the first time in Seoul Olympic Park!
From K-pop, K-drama to K-star and K-story!
Through the 4 different perspective, you can enjoy the K-culture in this K-world FESTA!
You will definitely have an unforgettable memory from this FESTA!
Soribada is one of the most famous and iconic music platform in Korea. Soribada Best K-Music Awards is presented annually since 2017 to celebrate the best K-pop music.
Famous and popular idols & singers are invited every year to participate the show.
Soribada builds the best quality stage with nice lighting and sound, bringing fans to a K-pop show with different sense of sensation!
LIVE performance! Wave your light stick!
Enjoy the chance that you can see your favorite idols closely!
2019 SOBA should not be missed!!
Book through us you get free access to Red carpet as well!
2018 Confirmed appearances
BTS, Wanna One, TWICE, RED VELVET, NCT127, MAMAMOO, NU'EST W, AOA, Bolbbalgan4
MOMOLAND, MONSTA X, Tae Jin Ah, Hong Jin-young, Lee Ro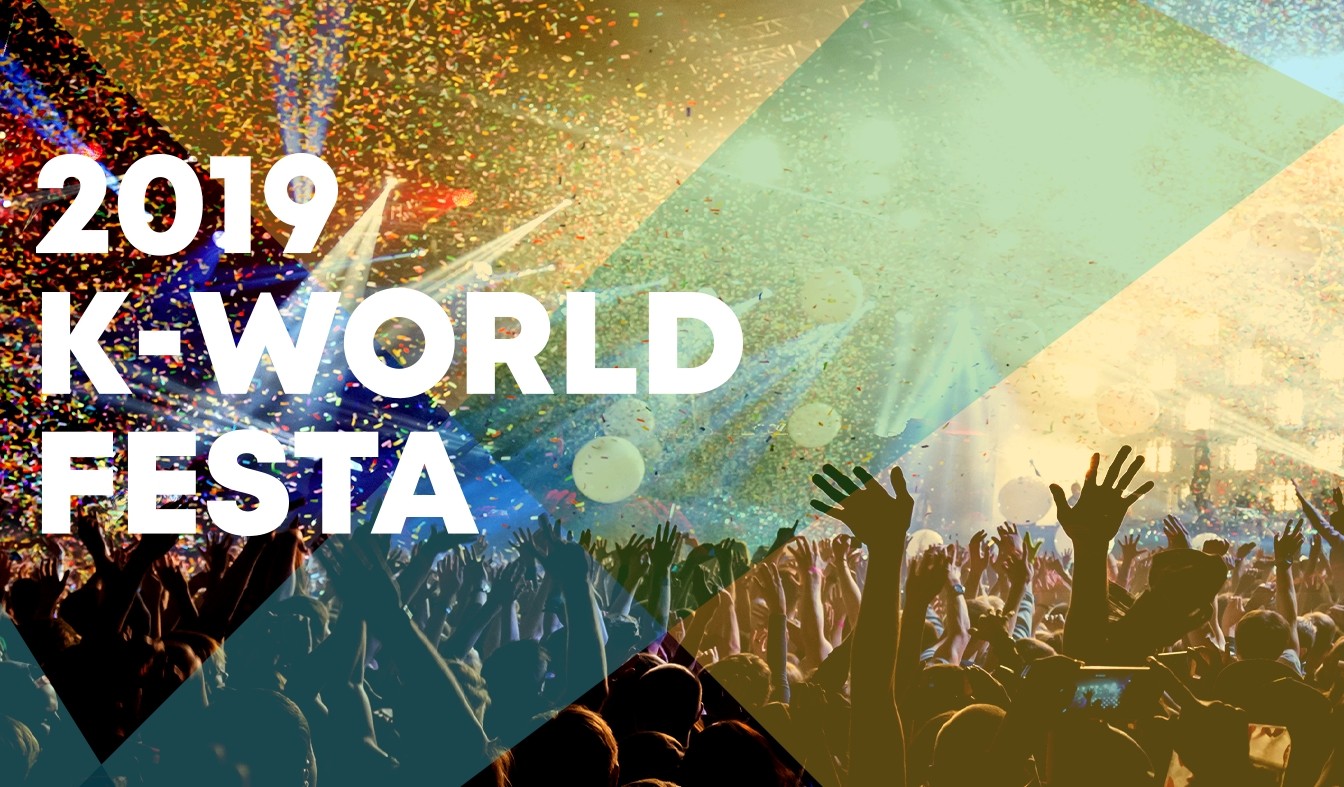 - Information -
SORIBADA BEST K-MUSIC AWARDS
・Venue : KSPO DOME
・Date:22 , 23 Aug 2019
・Time:18:30
SORIBADA Blue Carpet
・Venue : Olympic Hall
・Date:22 , 23 Aug 2019
・Time:16:30
※No cancellation & amendment after booking confirmed

Ticket booth only for the foreigner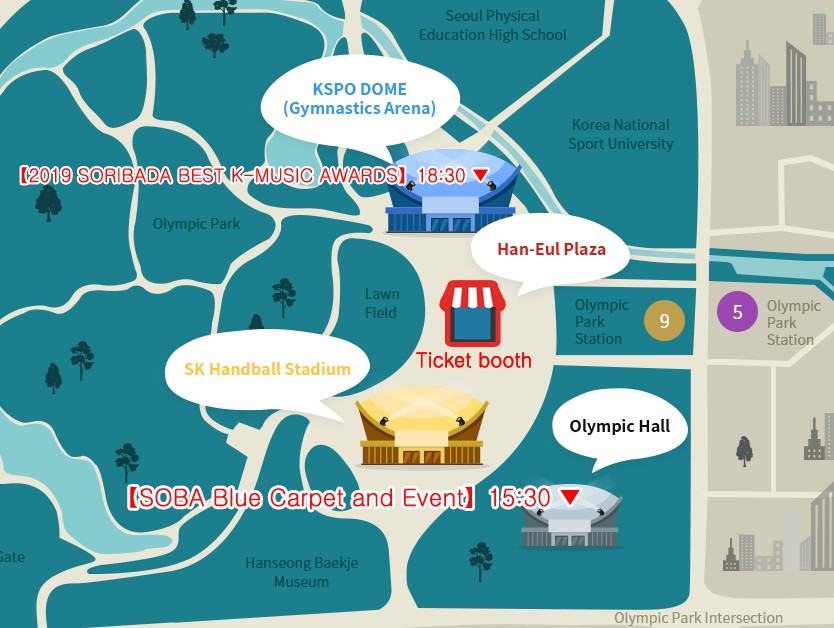 -Address : 424, Olympic-ro, Songpa-gu, Seoul / 서울특별시 송파구 올림픽로 424 (방이동)
-[Subway] Olympic Park Station (Seoul Subway Line 5), Exit 3. Located on the left.
-[Bus] Green Bus 3312, 3316, 3411, 3412, 3413, 4213 Blue bus 340, 342, 371 Get off at Olympic Park.
-Operation time of the ticket booth : Aug 22 (12:00-14:00) / Aug 23(12:00-14:00)
-you can check change your ticket the each vendor site with X-banner logo.
-Change your ticket at the designated at the foreigner exclusive ticket booth certainly.
※ we will notify changes in advance.
★This ticket is to be sold as a set and no item will be sold seperately.
★No cancellation & amendment after booking confirmed​
★SORIBADA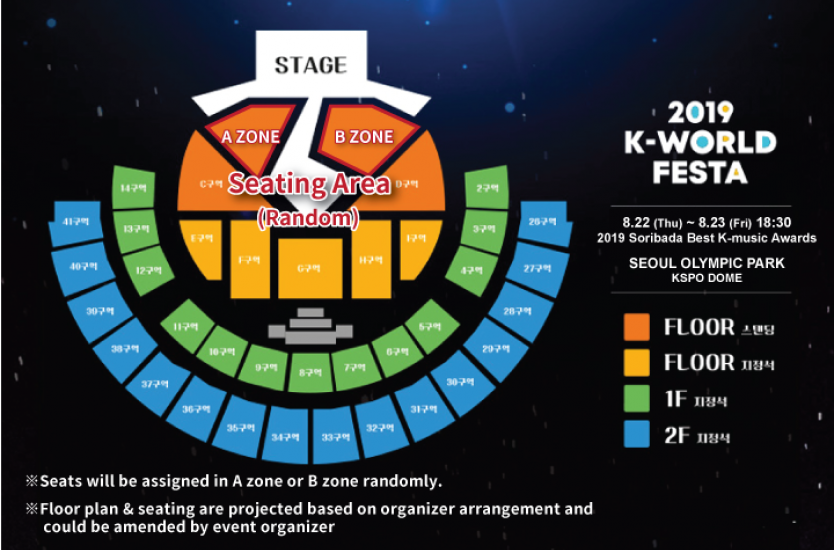 ★Blue Carpet and Events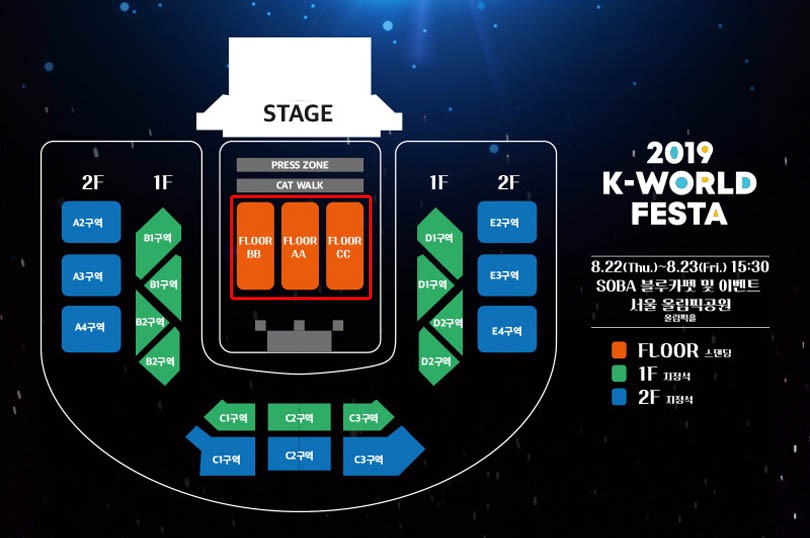 Notice
* Advance tickets for foreigners will be collected at the ticketing counter You need to bring your ID card (passport, alien registration card, copy of passport + at least one ID card issued by your country) Please bring it with you. If there is no such document, ticket exchange is not possible.
※ If you lost or damaged your ticket, it is your fault. The ticket will not be reissued and you cannot enter the concert without a ticket.
※ The concert will be broadcast live, so many cameras will be there. Because of cameras, your view could be blocked.
※ After the concert starts, you could be not permitted to enter.
※ For safety and security, any food and drink except water will be prohibited in the concert venue.
※ If you disrupt others' view with a tripod or a large camera, you could be restricted by the staff.
※ If you book a ticket illegally or if you are a Korean, your booking will be automatically cancelled and you cannot get refund on your ticket fare.
※본 티켓은 외국인 전용 예매 티켓입니다. 여권 또는 외국인등록증을 통해 본인 확인 후 티켓이 발권됩니다.(한국인 티켓 수령불가)
※부정 예매나 해당 대상이 아닌 경우(내국인), 예매는 강제 취소되며, 환불 또한 불가능합니다.
※Cancellation policy: non-refundable
Utilization information
Reservation
| Product | Normal Price | Trippse Price |
| --- | --- | --- |
| 2019 SORIBADA BEST K-MUSIC AWARDS + SOBA Blue Carpet and Event 8/22 | 298 USD | 264 USD |
| 2019 SORIBADA BEST K-MUSIC AWARDS + SOBA Blue Carpet and Event 8/23 | 298 USD | 264 USD |
| 2019 SORIBADA BEST K-MUSIC AWARDS + SOBA Blue Carpet and Event 8/22+8/23 | 595 USD | 510 USD |
Access
-Address : 424, Olympic-ro, Songpa-gu, Seoul / 서울특별시 송파구 올림픽로 424 (방이동)
-[Subway] Olympic Park Station (Seoul Subway Line 5), Exit 3. Located on the left.
-[Bus] Green Bus 3312, 3316, 3411, 3412, 3413, 4213 Blue bus 340, 342, 371 Get off at Olympic Park.
-Operation time of the ticket booth : Aug 22 (12:00-14:00) / Aug 23(12:00-14:00)


Traffic information
Subway Line 5 (올림픽공원)- 385.2m