Renewal:2022-11-15 05:09:53
The 37th Golden Disc Awards (GDA) 2023 VIP Standing Ticket Package 2022 골든디스크어워즈 투어 패키지
(서울 구로구 경인로 430 고척스카이돔)
The Golden Disc Awards is the most prestigious and largest music awards ceremony in Korea.
Also known as the Korean version of the Grammy Awards !
On November 14, it was announced that the 37th Golden Disc Awards will be taking place at the Rajamangala National Stadium in Bangkok, Thailand on January 7, 2023.
It's world festival in the year.
loved by the K-pop music industry for its fair evaluation of album sales as well as digital music downloads.
Throughout its longest tradition some of the awards has taken place overseas responding the staggering popularity of K-pop.
Golden Disc Awards is presented annually to recognize the outstanding achievements of K-POP industry.
It was first established in 1986 and has continued to significantly contribute to the growth of Korean music industry by fostering creative environment and encouraging new talents.
Golden Disc Awards has been recognized as "The Most Favored Awards by Artists" through its fairness and objectivity since its first ceremony.
Since winners are determined mostly by both album sales and digital streaming, it is most trusted and loved by artists and fans.
Golden Disc Awards precisely reflects the annual K-POP music industry, thus marking the award in the highest authority.
2019 Lineup Day 1 Music Awards : BTS, WANNA ONE, iKON, BLANKPINK, TWICE, MAMAMOO, Chungha, Bolbbalgan4, ROY KIM, MOMOLAND, GFRIEND, (G)I-DLE, Mino etc.
2019 Lineup Day 2 Album Awards: BTS, WANNA ONE, GOT7, TWICE, SEVENTEEN, NU'EST W, MONSTA X, IZ*ONE, STARY KIDS etc.
2023 lineup news coming soon!
※Lineup Subject to change / ※ 出演者は変更になる可能性がございます。予めご了承ください。/ ※ 根据主办方或出演ARTIST的情况,演出时间可能发生变更。 / ※ 根據主辦方或出演ARTIST的情況,演出時間可能發生變更。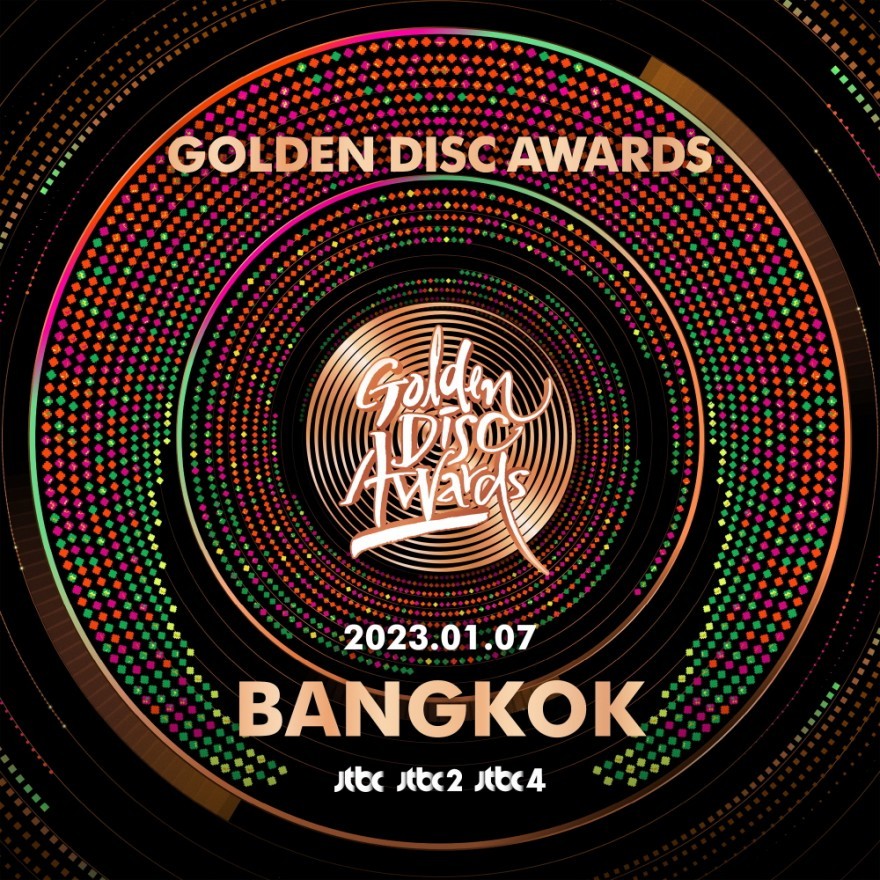 Golden Disc Awards, the most fair and prestigious awards ceremony
The Golden Disc Awards season has returned!
Date(KST) 2023. Jan.07.
Broadcast jtbc / jtbc2 / jtbc4
The Rajamangala National Stadium is Thailand's biggest stadium that can accommodate approximately 50,000 people. Previously, artists including BTS, Lady Gaga, Ed Sheeran, and more have performed at the venue.
Notice
* Advance tickets for foreigners will be collected at the ticketing counter You need to bring your ID card (passport, alien registration card, copy of passport + at least one ID card issued by your country) Please bring it with you. If there is no such document, ticket exchange is not possible.
※ If you lost or damaged your ticket, it is your fault. The ticket will not be reissued and you cannot enter the concert without a ticket.
※ The concert will be broadcast live, so many cameras will be there. Because of cameras, your view could be blocked.
※ After the concert starts, you could be not permitted to enter.
※ For safety and security, any food and drink except water will be prohibited in the concert venue.
※ If you disrupt others' view with a tripod or a large camera, you could be restricted by the staff.
※ If you book a ticket illegally or if you are a Korean, your booking will be automatically cancelled and you cannot get refund on your ticket fare.
※본 티켓은 외국인 전용 예매 티켓입니다. 여권 또는 외국인등록증을 통해 본인 확인 후 티켓이 발권됩니다.(한국인 티켓 수령불가)
※부정 예매나 해당 대상이 아닌 경우(내국인), 예매는 강제 취소되며, 환불 또한 불가능합니다.
※Cancellation policy: non-refundable
Utilization information
Suggested popular information of Coupon in Korea
(Korea Discount Coupon)