Renewal:2023-11-10 00:25:24
2018 SBS Awards Festival + Shuttle Bus Tour 2018 SBS 가요대전 투어 패키지
(서울 구로구 경인로 430 고척스카이돔)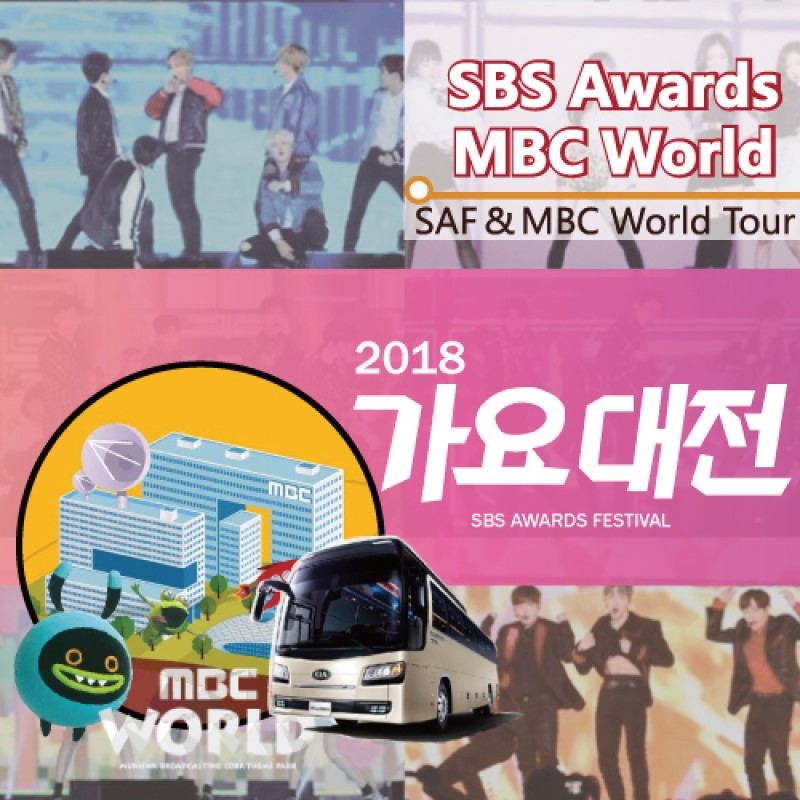 ​
2018 SBS Music Awards Festival (Gayo Daejun)1st Line up Teaser
2018 SBS Music Awards Festival (Gayo Daejun)2nd Line up Teaser


SBS Awards Festival of the year,join with korea top singers show you amazing live concert.
It's world festival in the year. ​​
Will many korea singer join this super live concert.
Grasp your golden chance to feel the Korean LIVE show!
​​After the live concert, Will support return shuttle bus take fans back to Myeongdong / Hongdae.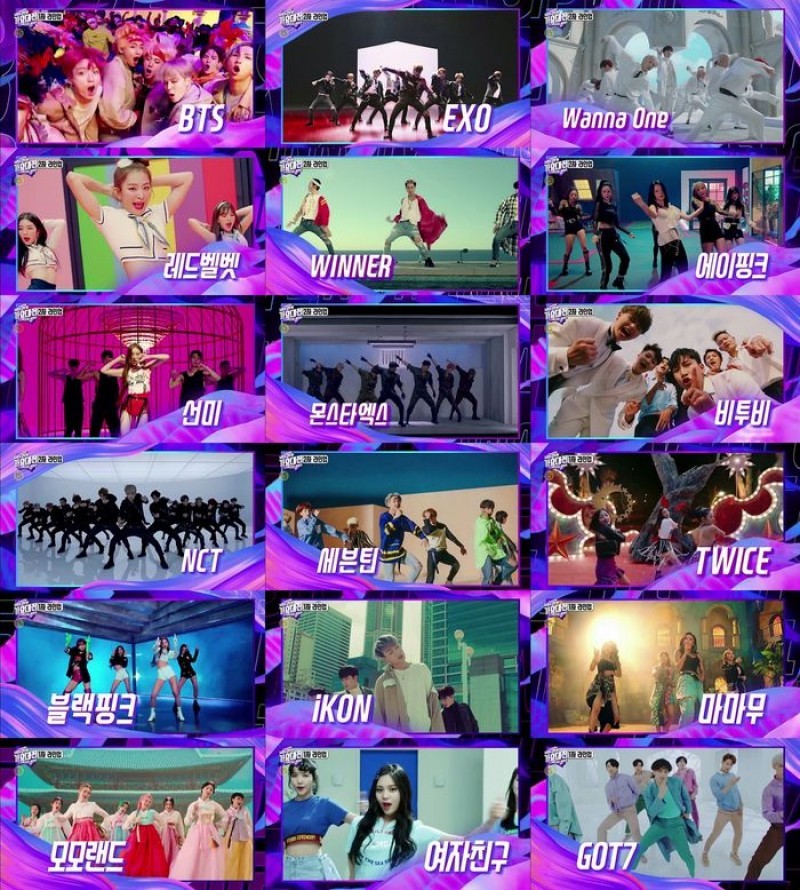 2018 SBS Awards Festival + Shuttle Bus Tour
2017 lineup : BTS, BOL4, BLACKPINK, BTOB, EXO, G friends, Heize, IU, Red Velvet, Sun Mi, TWICE, WINNER, Wanna One
2018 lineup : BTS, EXO, Wanna One, Red Velvet, WINNER, Apink, SUNMI, MONSTA X, NCT, Seventeen, BTOB, TWICE, BLACKPINK, iKON, MAMAMOO, MOMOLAND, GFRIEND, GOT7
Schedule : Dec. 2018
Venue : Gocheok Skydome(430, Gyeongin-ro, Guro-gu, Seoul)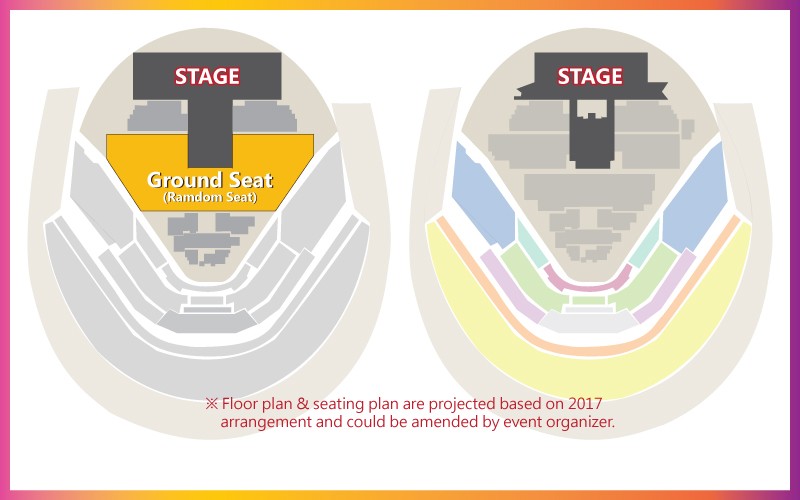 *TRIPPOSE : GROUND Seat
★Schedule
10:30 Myeongdong Station Exit 3 Meeting (명동역3번출구 미팅) ※Attention:If not take bus on time, bus will leave directly!!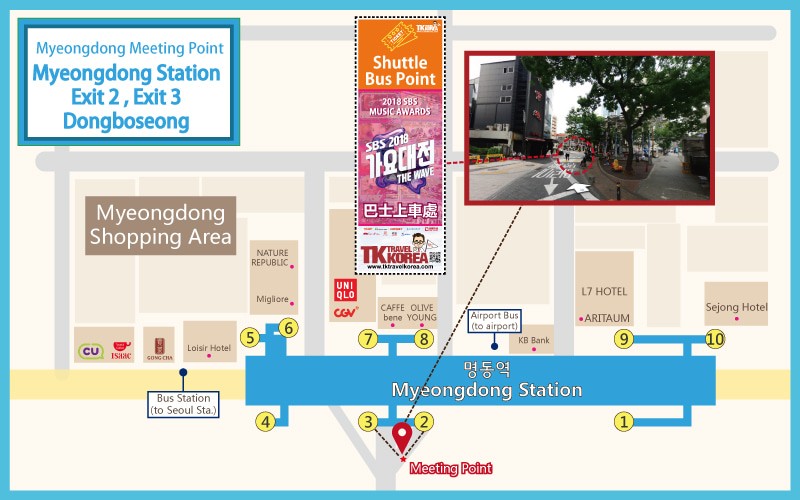 11:00 Hongdae Station Exit 3 Meeting (홍대역3번출구 미팅) ※Attention:If not take bus on time, bus will leave directly!!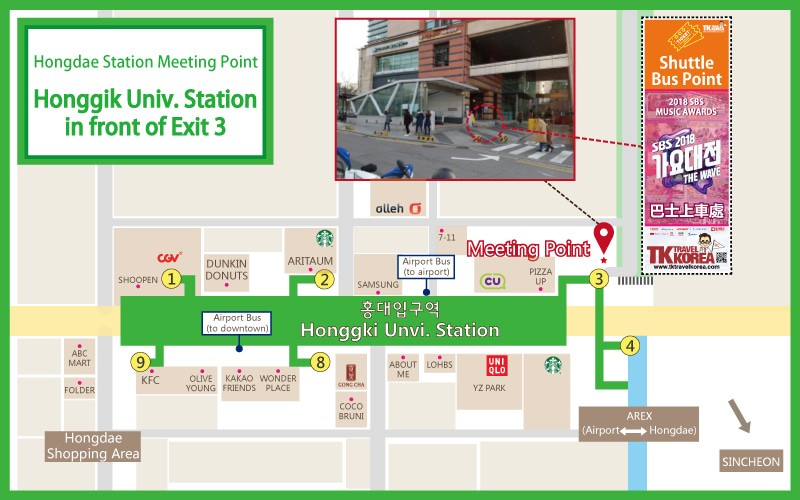 11:30:MBC WORLD(MBC 월드 입장 및 관람)
12:30:Free lunch (No included Meals) (점심시간(자율 점심 ※식사제공 없음)
15:00 - 17:00 : Enter event hall
※ATTENTION! No entry will be allowed after 17:00. All guests have to enter event hall before 17:00
17:30 - 21:00:SBS Awards Festival (SBS가요대전 콘서트 관람)
21:30 - 22:00:Return Shttle bus point (셔틀버스 승차)
※ATTENTION! Bus departs at 22:00 with no waiting. Please arrange own transportation to return Seoul after 22:00
22:30:Drop off at Hongdae Station (홍대역하차)
23:00:Drop off at Myeongdong Station (명동역하차)
※Will departs on both rainy and snowy days.
Meeting Point & Bus Point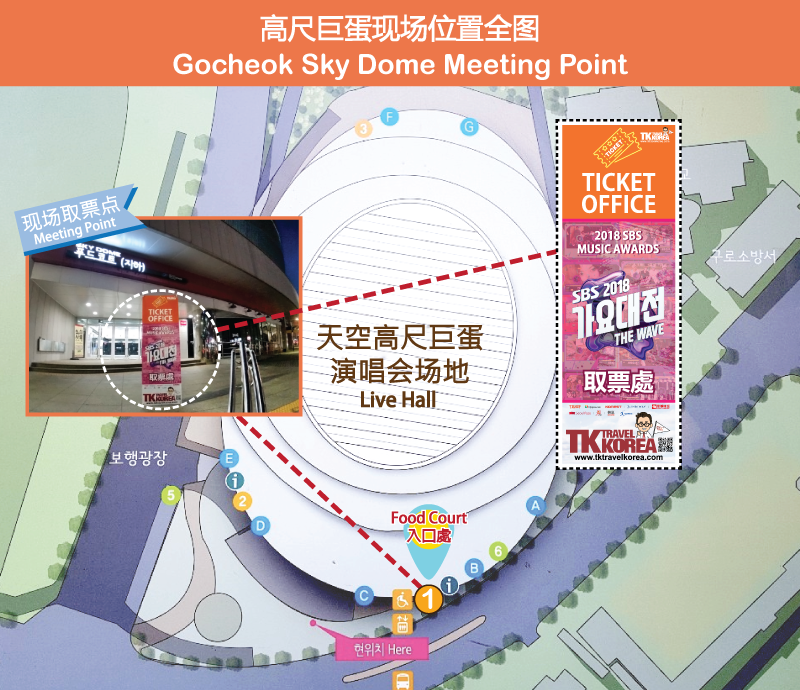 ▲ Gocheok Sky Dome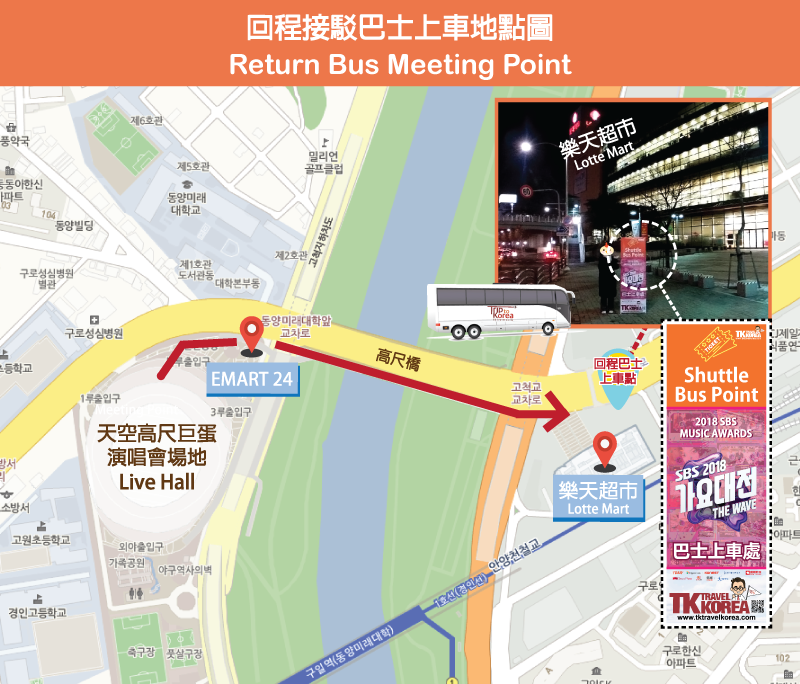 ▲ Return Bus Point
★Included
1. Admission tickets
2. Driver tips
3. Fuel / parking fee
★Not included
1. Personal expenses
2. Travel insurance
* Advance tickets for foreigners will be collected at the ticketing counter You need to bring your ID card (passport, alien registration card, copy of passport + at least one ID card issued by your country) Please bring it with you. If there is no such document, ticket exchange is not possible.
※ If you lost or damaged your ticket, it is your fault. The ticket will not be reissued and you cannot enter the concert without a ticket.
※ The concert will be broadcast live, so many cameras will be there. Because of cameras, your view could be blocked.
※ The last admission time is 6 pm. After the time, you cannot be permitted to enter or your seat could be changed.
※ After the concert starts, you could be not permitted to enter.
※ For safety and security, any food and drink except water will be prohibited in the concert venue.
※ If you disrupt others' view with a tripod or a large camera, you could be restricted by the staff.
※ If you book a ticket illegally or if you are a Korean, your booking will be automatically cancelled and you cannot get refund on your ticket fare.
※본 티켓은 외국인 전용 예매 티켓입니다. 여권 또는 외국인등록증을 통해 본인 확인 후 티켓이 발권됩니다.(한국인 티켓 수령불가)
※부정 예매나 해당 대상이 아닌 경우(내국인), 예매는 강제 취소되며, 환불 또한 불가능합니다.
※Cancellation policy: non-refundable
Utilization information
Reservation
| Product | Normal Price | Trippse Price |
| --- | --- | --- |
| 2018 SBS Music Awards Ticket + Bus Transfer Package 10:30 Hongdae Station Exit 3 Meeting | 265 USD | 224 USD |
| 2018 SBS Music Awards Ticket + Bus Transfer Package 11:00 Hongdae Station Exit 3 Meeting | 265 USD | 224 USD |
Access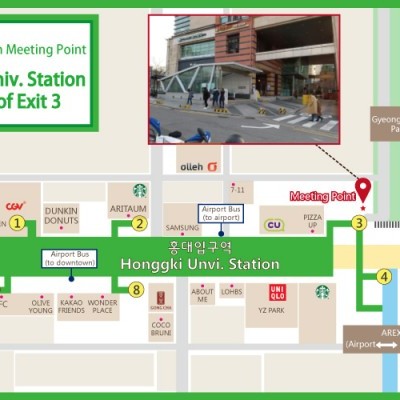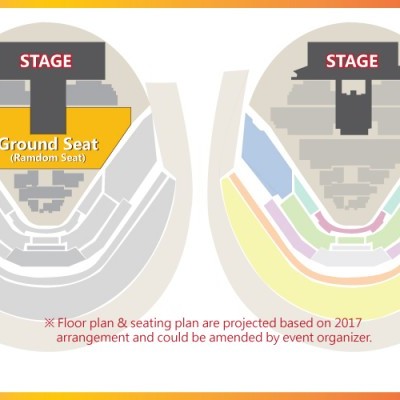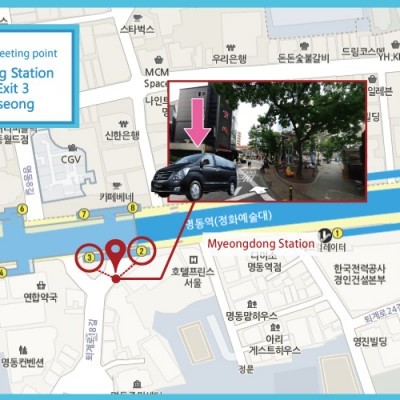 10:30 Myeongdong Station Exit 3 Meeting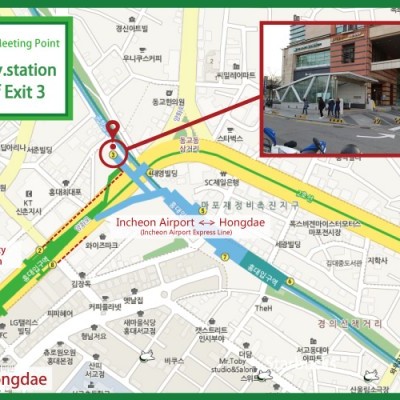 11:00 Hongdae Station Exit 3 Meeting
Traffic information
Subway Line 1 Guil (구일)- 354.8m
Suggested popular information of Coupon in Korea
(Korea Discount Coupon)
Review(13)
AmandaWj2
2018.11.20 18:54
Mook MdKh
2018.12.04 01:00
Mook MdKh
2018.12.04 01:00
Mook MdKh
2018.12.04 01:01
Kenny Nguyen
2018.12.14 15:47
Yunchu Chen
2018.12.15 14:32
Yunchu Chen
2018.12.15 14:32
ZHANGWENWEN
2018.12.19 00:06