Renewal:2023-01-18 09:31:27
【Instant confirmation】2023 Seoul Music Awards Ticket 서울가요대상 티켓 2023
424 Olympic-ro, Songpa-gu, Seoul, South Korea (서울 송파구 올림픽로 424)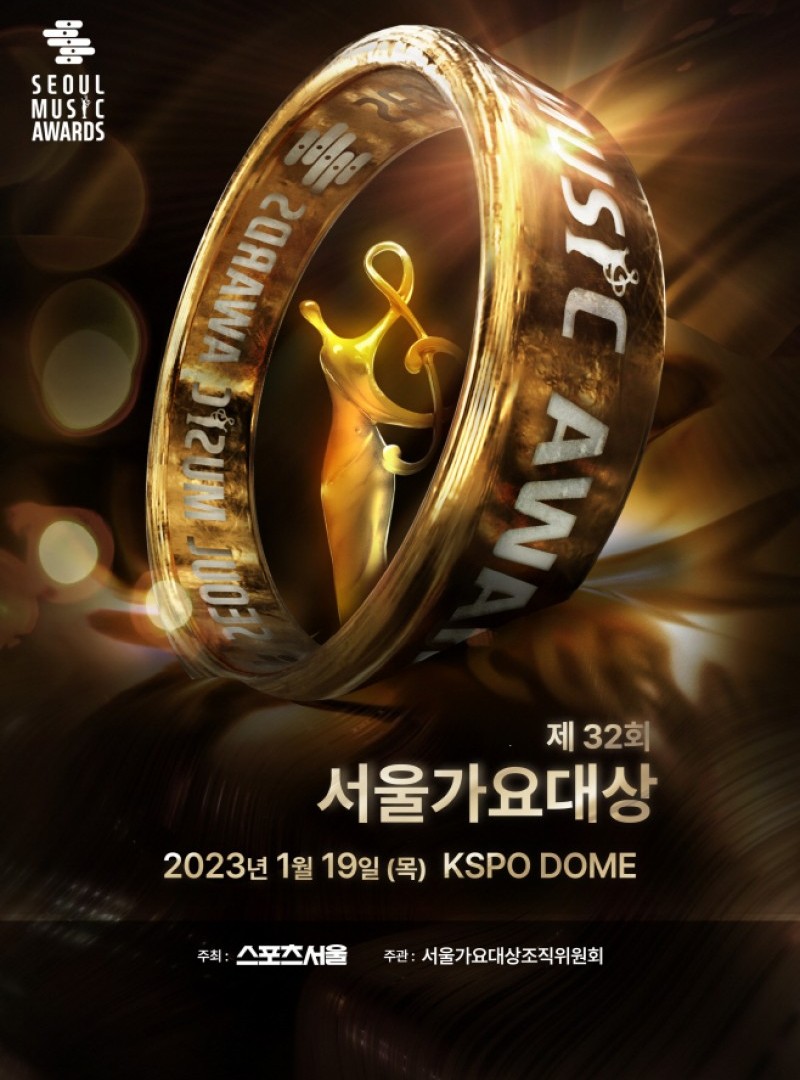 32nd Seoul Music Awards to be held on Jan. 19 in Seoul
How can you miss the chance of performing in
Korean Pop Idols' show when visiting Korea !
The upcoming Seoul Music Awards will take place at KSPO Dome, Seoul, on Thursday, January 19, 2023. The annual show is organized by Sports Seoul and will be live broadcast on U+IDOL.
The annual ceremony honors artists of diverse genres including ballad, hip-hop, R&B and bands that have been loved the public during the past year by evaluating their professionalism and diversity.
The lineup of nominees and presenters to grace the Seoul Music Awards is expected to be updated a week prior to the event.
At the 31st Seoul Music Awards held at Seoul's Gocheock Sky Dome earlier this year, the K-pop boy band NCT 127 took home the grand prize.
The awards categories included: the Grand Award (Daesang), Best Song Award, Best Album Award, World Best Artist Award, Main Award (Bonsang), Rookie of the Year, Hallyu Special Award, Best Performance Award, Ballad Award, R&B/Hip Hop Award, OST Award, Band Award, Special Judge Award, Popularity Award, Discovery of the Year Award, and Trot Award.
LINE-UP
NCT DREAM, KANGDANIEL, TNX, PSY, aespa, LE SSERAFIM, IVE, NewJeans, Red Velvet, (G)I-DLE, BoA, GOT the beat
2023 lineup news coming soon!
※Lineup Subject to change / ※ 出演者は変更になる可能性がございます。予めご了承ください。/ ※ 根据主办方或出演ARTIST的情况,演出时间可能发生变更。 / ※ 根據主辦方或出演ARTIST的情況,演出時間可能發生變更。
'TRIPPOSE.COM' is '2023 Seoul Music Awards Ticket' official sales channel. Tickets can be purchased immediately. ★Instant Confirmation
[Ticket booth only for the foreigner]
-you can check change your ticket the each vendor site with X-banner logo(Trippose.com).
HERE(Google Map)!
-Change your ticket at the designated at the foreigner exclusive ticket booth certainly.
※ we will notify changes in advance.
★This ticket is to be sold as a set and no item will be sold seperately.
★No cancellation & amendment after booking confirmed​
*How to Receive : Please present reservation confirmation mobile voucher after reservation voucher, identification (passport or ID card) and distribution. / Appointment E-mail not available.
*Note : You will not be able to enter the concert after the closing time of the concert, so please observe the ticket receipt time and arrive in advance so that there will be no disruption in your position.
*Ticket booth hours_

16:00 - 18:30

(Local time)


19:00 Enjoy '2023 Seoul Music Awards'
*LATECOMERS : Should this prove impossible because all the side seats are occupied, latecomers will unfortunately not be admitted to the concert, and their ticket prices will not be refunded.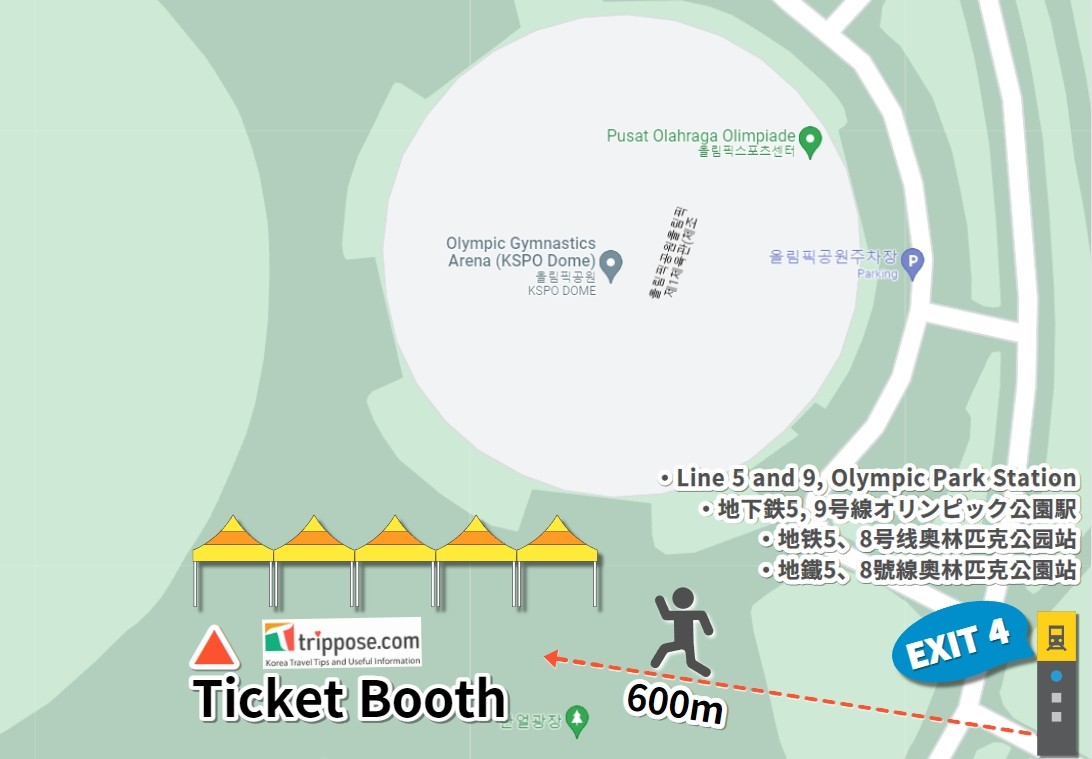 KSPO DOME(Olympic Gymnastics Arena)
*Date : January 1, 2023 (Thursday)
*Address : 424 Olympic-ro, Songpa-gu, Seoul, South Korea 서울특별시 송파구 올림픽로 424 (방이동 88-2)
-Subway : Subway Line 5 or 9 to Olympic Park Station (올림픽공원역), Exit 3 or 4
Notice
* Advance tickets for foreigners will be collected at the ticketing counter You need to bring your ID card (passport, alien registration card, copy of passport + at least one ID card issued by your country) Please bring it with you. If there is no such document, ticket exchange is not possible.
※ If you lost or damaged your ticket, it is your fault. The ticket will not be reissued and you cannot enter the concert without a ticket.
※ The concert will be broadcast live, so many cameras will be there. Because of cameras, your view could be blocked.
※ After the concert starts, you could be not permitted to enter.
※ For safety and security, any food and drink except water will be prohibited in the concert venue.
※ If you disrupt others' view with a tripod or a large camera, you could be restricted by the staff.
※ If you book a ticket illegally or if you are a Korean, your booking will be automatically cancelled and you cannot get refund on your ticket fare.
※본 티켓은 외국인 전용 예매 티켓입니다. 여권 또는 외국인등록증을 통해 본인 확인 후 티켓이 발권됩니다.(한국인 티켓 수령불가)
※부정 예매나 해당 대상이 아닌 경우(내국인), 예매는 강제 취소되며, 환불 또한 불가능합니다.
※Cancellation policy: non-refundable ​
※Emergency contact number : +82-10-6787-1516
Utilization information
Reservation
| Product | Normal Price | Trippse Price |
| --- | --- | --- |
| 2023 Seoul Music Awards Ticket 2023 Seoul Music Awards Ticket(Ground zone / Random) | 416 USD | 227 USD |
424 Olympic-ro, Songpa-gu, Seoul, South Korea
Traffic information
Subway Line 5 (올림픽공원)- 458.5m
Suggested popular information of Coupon in Korea
(Korea Discount Coupon)