Renewal:2023-11-09 18:22:41
SEVEN LUCK CASINO COUPON - Seven Luck Casino in SEOUL DRAGON CITY 세븐럭카지노 서울드래곤시티점
5th floor, Convention Tower, 95, Cheongpa-ro 20-gil, Yongsan-gu, Seoul (서울특별시 용산구 청파로20길 95, 컨벤션타워 5층)

A special experience at the center of Seoul

Seven Luck Casino in Seoul Dragon City
WHERE EVERYONE WANTS TO GO, LAS VEGAS OF KOREA

Chi nhánh Seoul Dragon City / Seven Luck Casino phiếu mua hàng
Looking for a unique and unforgettable experience in the heart of Seoul?
Experience the thrill and excitement of South Korea's most popular casino destination, Seven Luck Casino in Seoul Dragon City! Nestled in the heart of Yongsan, immerse yourself in the rich cultural heritage and vibrant contemporary atmosphere of Seoul while enjoying world-class gaming and entertainment.
Unmatched in elegance and sophistication, Seven Luck Casino in Seoul Dragon City offers over 3,146.96 square meters of state-of-the-art gaming facilities, including Baccarat, Blackjack, Roulette, Tai-Sai, Seven Luck Poker, Casino War, Electronic Table Games (ETG), and a diverse array of slot machines. Discover a gaming experience like no other, tailored to suit the discerning tastes of both casual and seasoned players alike.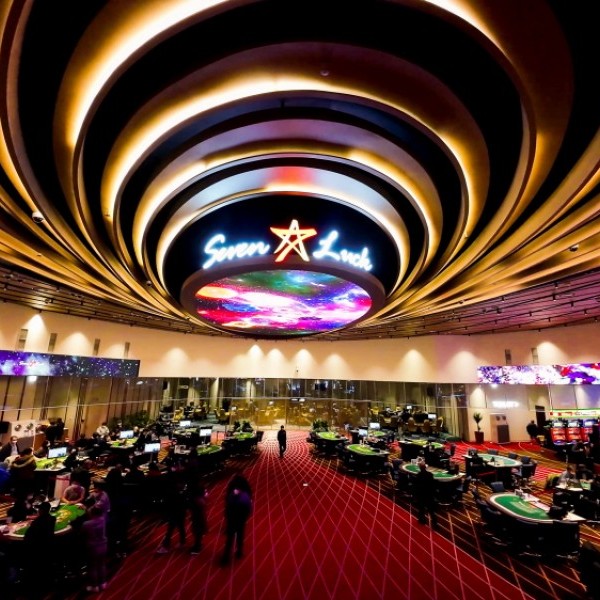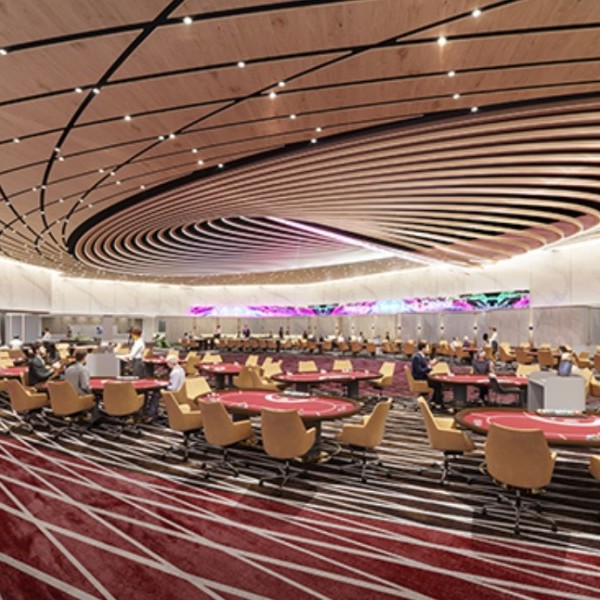 Conveniently located near iconic hotels, renowned shopping centers, and must-see tourist attractions, Seven Luck Casino in Seoul Dragon City is the perfect addition to your South Korean adventure.
Don't miss out on Trippose.com's exclusive Seven Luck Casino coupon, offering a free 60,000 won betting voucher and a special commemorative gift upon your visit. Elevate your trip to South Korea with an unforgettable experience at the nation's premier casino destination.
Seoul Dragon City's Seven Luck Casino is easily accessible via airport bus, taxi, and subway, making it the ideal choice for your next getaway. Explore the timeless traditions and rich culture of Seoul through its bustling shopping districts and world-famous landmarks.
Address: 5th floor, Convention Tower, 95, Cheongpa-ro 20-gil, Yongsan-gu, Seoul
Don't just plan a trip to South Korea – make it an experience of a lifetime with Seven Luck Casino in Seoul Dragon City, the ultimate gaming and entertainment hotspot. Book your adventure today and discover the unparalleled luxury and excitement that awaits you.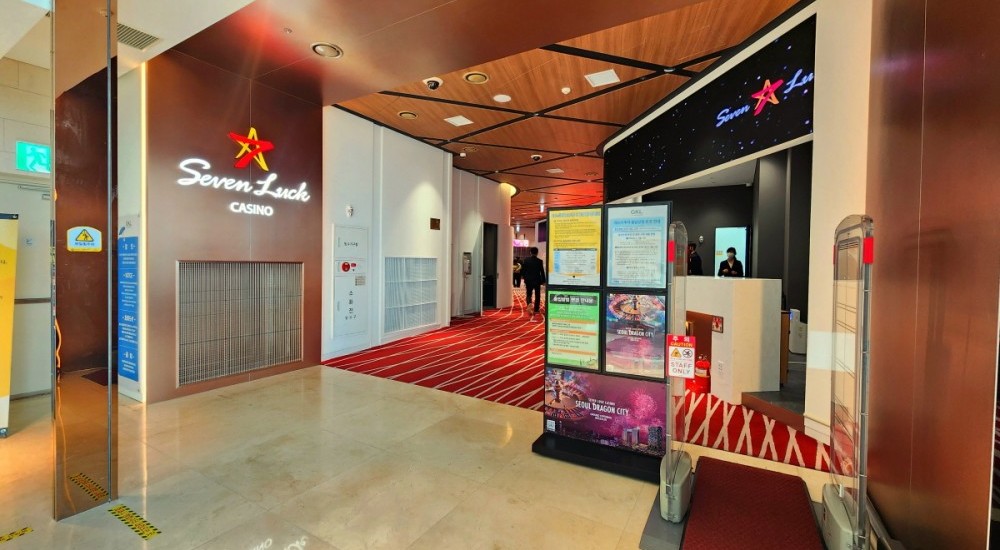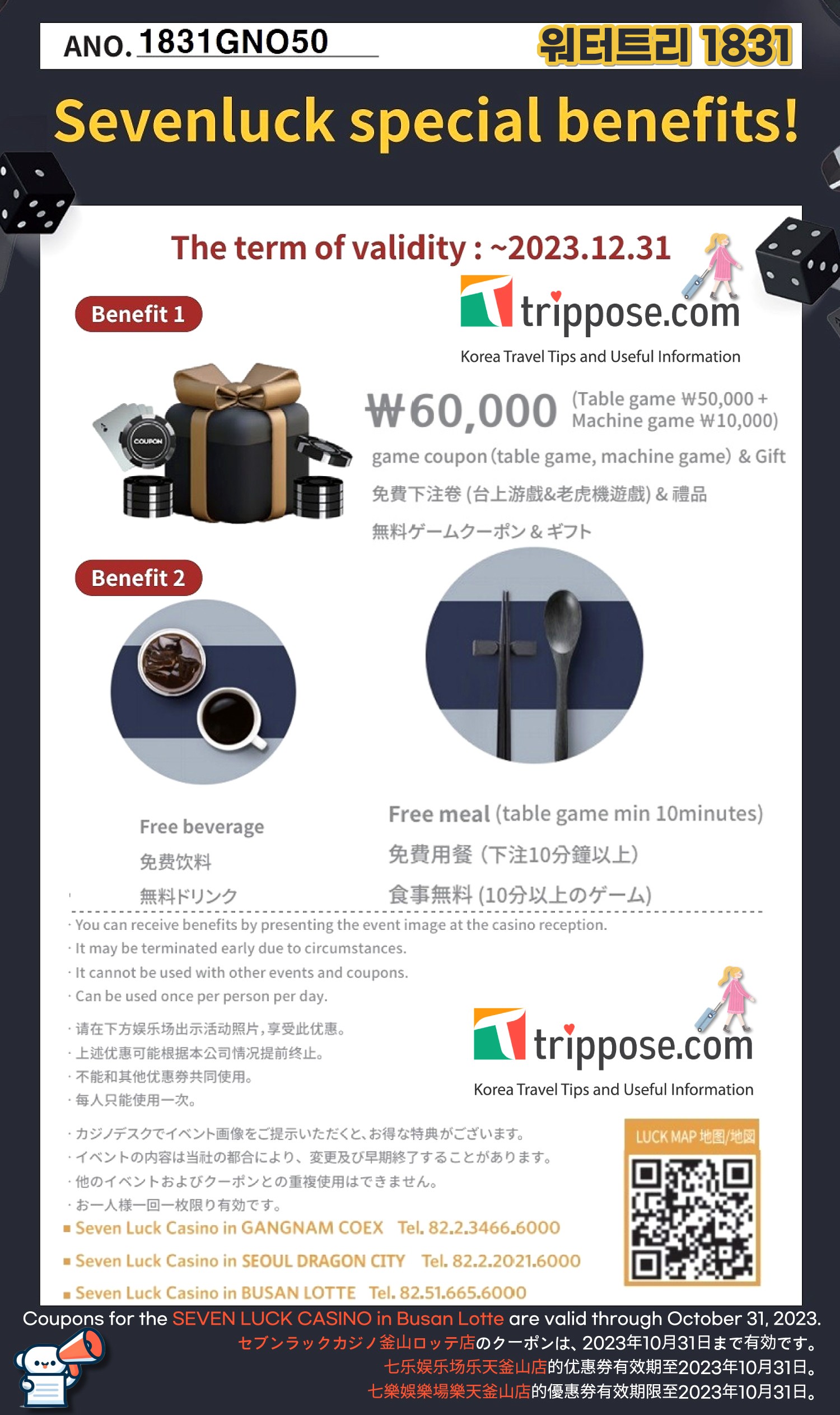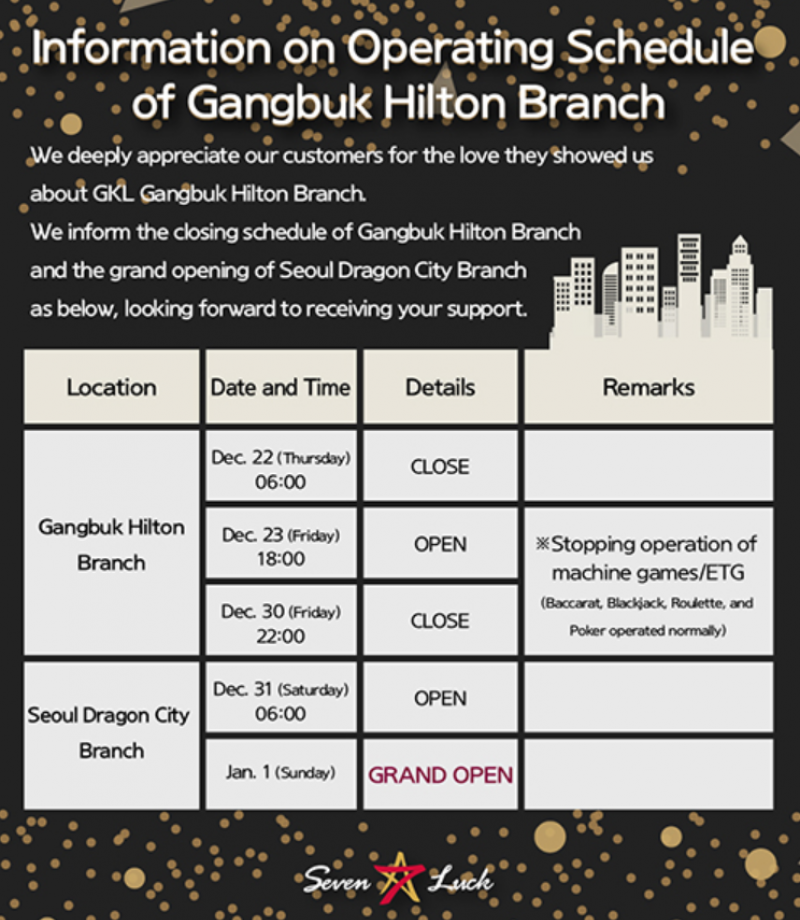 Utilization information
Access
Getting here from major locations

*From SeoulSubway
Line 1: 3 minutes on foot from Exit 3 of Yongsan Station
Line 4: 10 minutes on foot from Exit 5 of Sinyongsan Station
from Incheon International AirportLimousine Bus No.6030
Stop Location: Board at 6B Gate on the 1st floor of Incheon International Airport Terminal or Traffic Center #32 on the 1st basement floor.
Operation Hours: 06:35am ~ 22:30pm (departing from Incheon International Airport)
Service Interval: 20~30minute interval
Estimated Travel Time: 60~70minutes
Destination Bus Stop: Seoul Dragon City

*Taxi
Estimated Duration : 60min
※ The duration and the fare may vary depending on the road conditions.

*SUBWAY
Board the Airport Railroad at Incheon International Airport
Transfer to Line 1 at Seoul Station
3-minute walk from Exit 3 of Yongsan Station
From Gimpo AirportLimousine Bus
No limousine bus route.

*Taxi
Estimated Duration : 50min
※ The duration and the fare may vary depending on the road conditions.

*SUBWAY
1) Stop Location : B1
Ride Airport Train at Gimpo International Airport Station
Transfer to Gyeongui-Jungang Line at Hongik University Station
Walk 3 minutes from Exit 3 of Yongsan Station.
Time required : 35 minutes
Destination : Yong-San station

2) Stop Location : B1
Board at Line 9 Gimpo International Airport Station.
Transfer to Line 1 at Noryangjin Station.
Walk 3 minutes from Exit 3 of Yongsan Station.
Time required : 45 minutes
Destination : Yong-San station
5th floor, Convention Tower, 95, Cheongpa-ro 20-gil, Yongsan-gu, Seoul
Traffic information
Subway Line K Yongsan       (용산)- 249.8m
Subway Line 1 Yongsan       (용산)- 249.8m
Subway Line 4 Sinyongsan (신용산)- 512.7m
Suggested popular information of Coupon in Korea
(Korea Discount Coupon)