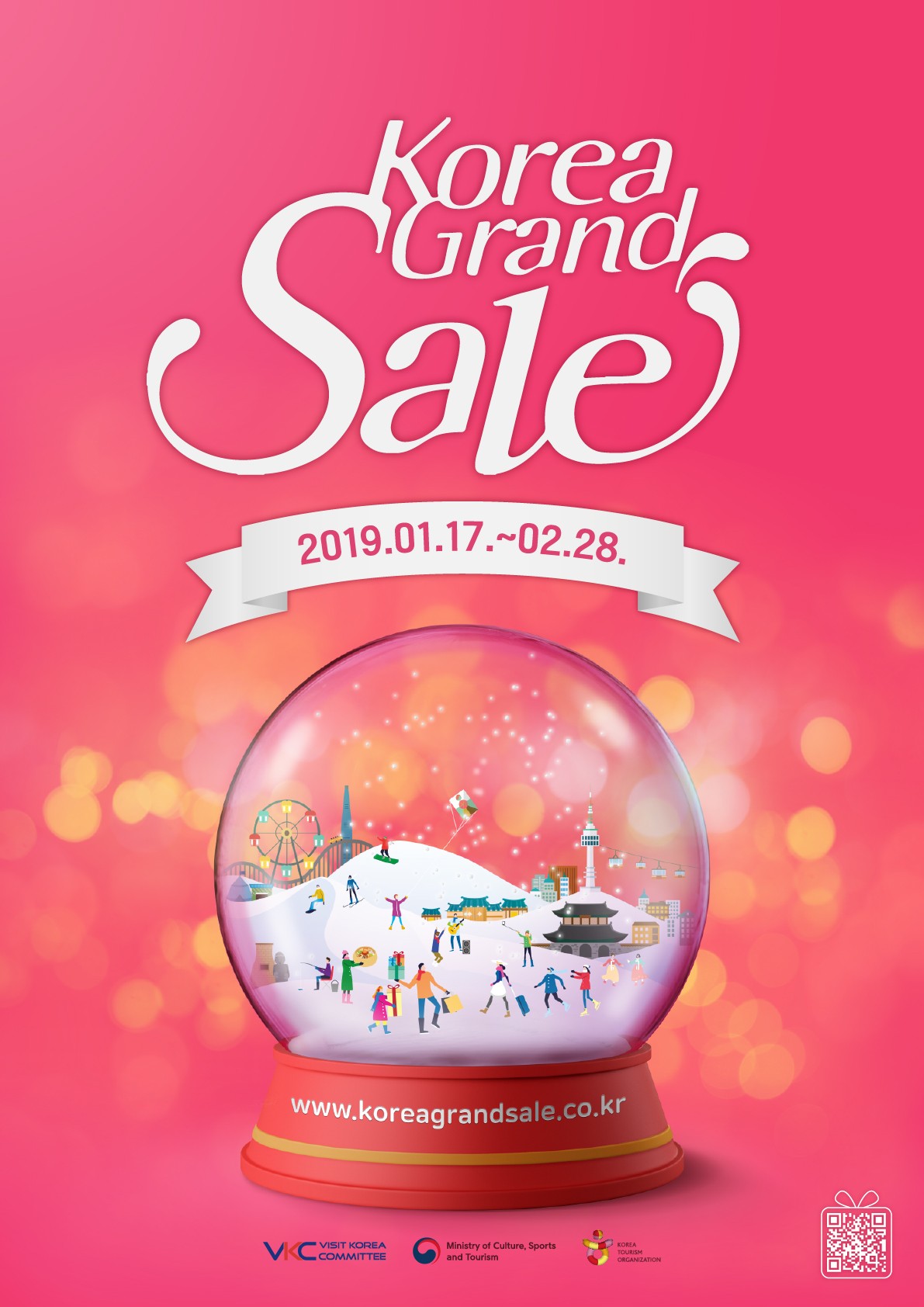 About KGS(Korea Grand Sale)
In celebration of its 10th anniversary this 2019, the Korea Grand Sale, the annual festival of shopping, tourism, and culture highlighting "Hallyu" (Korean wave), offers plenty of benefits in various fields for foreigners from shopping to airfares and accommodations, beauty, and entertainment to tourist destination, food and beverage, plus services, including interpretation, event guide, free Internet and Wi-Fi, and giveaways.
Plan ahead and get hands-on experiences of excellent products and cultures unique to Korea through the Korea Grand Sale!
You can find out more about the many events, promotions, discounts, and services on the official homepage of the Korea Grand Sale, renewed in time for the 2019 event.
Check out detailed information and functions to enjoy full benefits at the Korea Grand Sale!
Event Title : Korea Grand Sale 2019
Event Period : January 17 (Thursday) to February 28 (Thursday), 2019 (43 days)
Venue : Seoul, greater Seoul metropolitan area, and major local areas all around Korea
Target : Foreign tourists visiting Korea
Festival information : Discounts on products and services, free gifts, cultural experiences and more
Hosting organizations : Ministry of Culture, Sports, and Tourism & Visit Korea Committee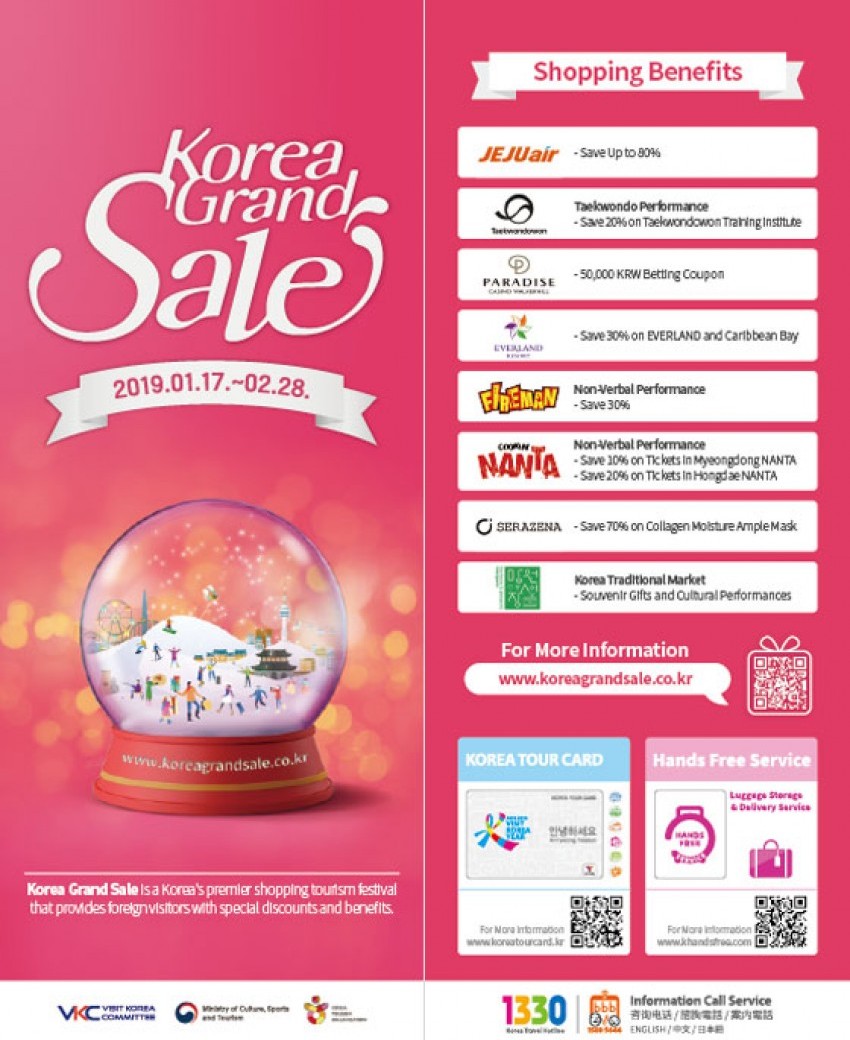 Korea Grand Sale all-in-one coupon
This is an all-in-one coupon that can be used at the participating companies of the Korea Grand Sale. You can enjoy discounts anytime, anywhere. However, benefits may vary by each store when using this coupon. Please check the official website or promotion materials to get the details of discount benefits and information.
Online coupon
Customers may use the online Korea Grand Sale coupon below.
※ You can also access the coupon via mobile phones or tablet PCs.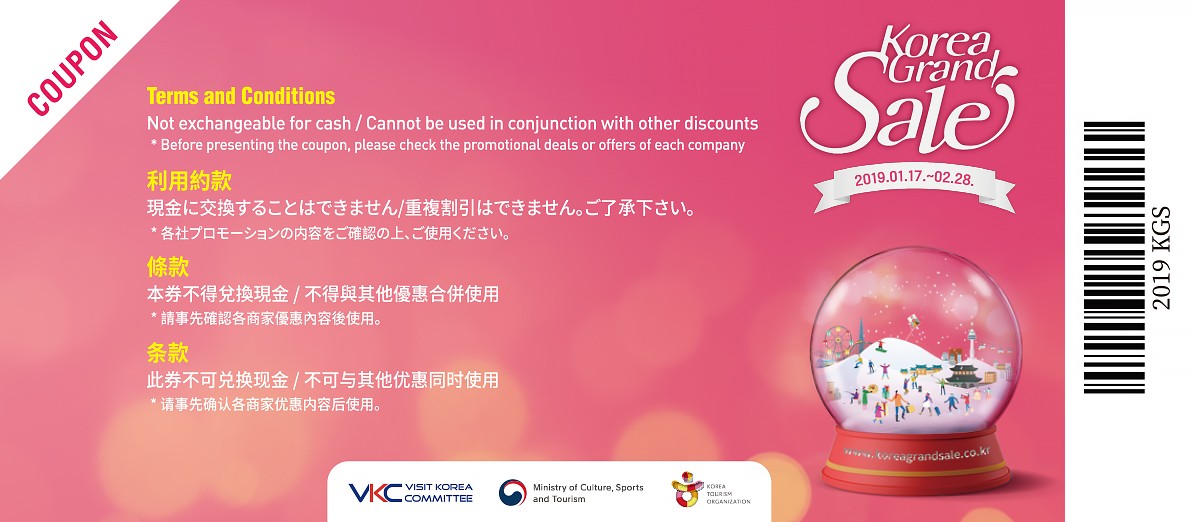 How to use the coupons
Step.1
Visit a participating store.
Step.2
Present the coupon before you make your purchase, or if applicable, exchange the coupon for its own "store coupons".
Step.3
Buy products or get a service at a discounted price (or receive a free gift).
※Additional Information
Coupons are valid only during the Korea Grand Sale period (Jan. 17th ~ Feb. 28th, 2019).
No membership subscription is required to receive a coupon.
All forms of coupons have the same effect (regardless of the form: the online type, the paper type, the combined one, and the store coupon).
Other promotions or credit card offers CANNOT be used together.
The coupons cannot be exchanged to cash
『 COPYRIGHTS ©Visit Korea Committee. ALL RIGHTS RESERVED www.koreagrandsale.co.kr』
韓国旅行情報のすべて : トリップポーズ
http://www.trippose.com
South Korea travel tips and articles : TRIP-PROPOSE
http://en.trippose.com
韩国旅游提示和文章 : TRIP-PROPOSE
http://cn.trippose.com
韓國旅遊提示和文章 : TRIP-PROPOSE
http://tw.trippose.com
/
http://hk.trippose.com