Renewal:2016-12-23 16:44:34
Klive Hologram Concert Ticket K-POP 홀로그램 콘서트 Klive(케이라이브)
+82-2-2265-0810

klive.co.kr

5.0

/

2
264 Eulji-ro, Jung-gu, Seoul (서울특별시 중구 을지로 264, LOTTE FITIN 9F)

K-live, the world's first K-pop hologram performance hall invites you to a world of hallyu fantasy. Located on the 9th floor of Lotte FitIn (롯데피트인), the hall showcases a variety of K-pop concerts using the best in hologram technology. The experience is made even more immersive with the combination of augmented and virtual reality technologies. Audiences can watch their favorite artists projected onto a 270-degree media facade, which is accompanied by a 14.2 channel surround sound system.
Inviting you to a world of fantasy
The fantasy world K-live, in the imaginary "Hallyu City"
Inviting you to a world of fantasy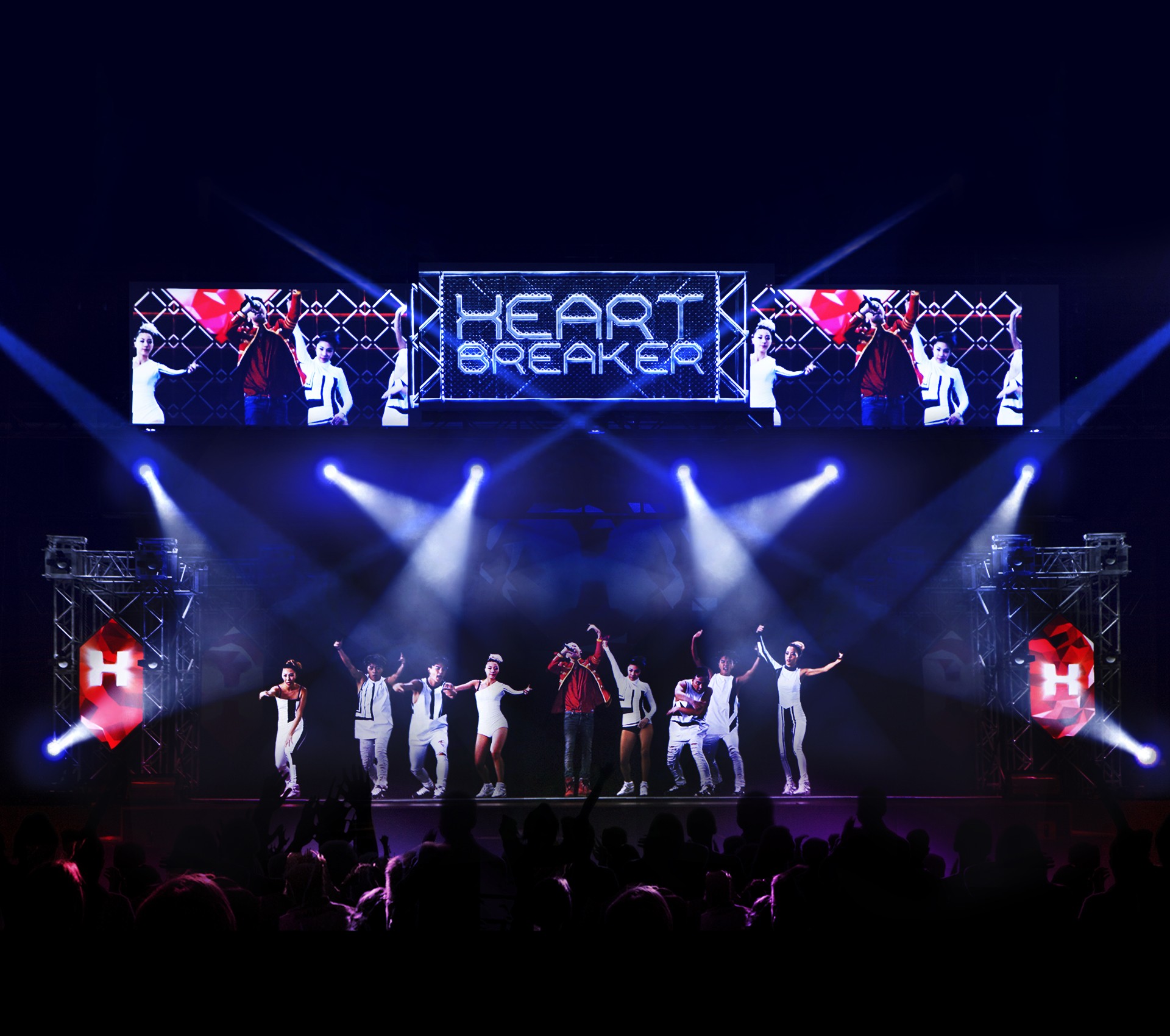 The fantasy world K-live, in the imaginary "Hallyu City"
K-live is the world's first dedicated K-pop hologram performance hall.Combining Korea's top K-pop contents and digital technologies, K-live provides new things to see and fantastic experiences. The vivid sense of reality given by high-resolution images, and the grandeur of a 270 degree panorama view that fills your field of vision, combined with the dance performances of popular idol groups and the cheer of K-pop creates an experience of unrivaled joy.
The K-live theater is located in the imaginary "Hallyu City." The Middle Age-themed pavement blocks, streetlamps here and there, the dusky atmosphere with the stars glittering far in the distance make for a dreamlike atmosphere.
When the clock tower behind the enormous variety of K-pop star products strikes the hour, K-live comes alive. Clowns emerge from the terraces jutting out of the walls in front of the theater, and guide the people from the square to the theater.
In the hologram theater, audiences meet Joker the Card Fairy, the jukebox engineers, and the performers searching for Psy, entering into the fantasy world of the hologram concert.
K-live also has various digital attractions like the AR show, Star Giant tower, Secret Window, and Star Lounge, where audiences can create charming memories.From the star-studded K-live terrace is visible the unique nightscape of the huge spaceship-shaped Dongdaemun Digital Plaza(DDP). How?about a photo to the backdrop of a major Seoul attraction?
K-live dreams.
We hope all visitors to K-live forget reality for a moment, and enjoy the dreams and pleasures of fantasy.
Hologram Concert
A fantastic stage combining dance performances?and K-pop star concerts
The K-live hologram concert is designed to involve audiences into the performance with fun stories before the beginning of the hologram performance of the K-pop artists. The brilliant media facade images covering 270 degrees provide plenty to see and enjoy.?The dynamic inner walls of the hologram concert hall open during the performance, and the 14.2 channel surround sound system that rivals any concert hall, brilliant lighting and lasers, fog, dynamic photos and other special effects surround viewers with the cheerful energy of K-pop, novel digital technologies, and a fantastic sense of space.
Hologram concert The veil rises on the stage, and the artists appear in front of your eyes as if for real, accompanied by vivid K-pop melodies!! Whatever you see in front of your eyes, believe it! You're now captivated by the hologram show. To create fantastic performances like real life, artists were filmed multiple times in front of a blue screen. Each image was corrected and processed with computer graphics by the production staff. Lighting reflected by the carefully made hologram images make the images seem three-dimensional. The images embody the experience and know-how of the installation engineers, and use high-resolution media devices.
Now then, are you ready to see the magic of the hologram concert with your own eyes?
Hologram theater: Size : 2 stories / Capacity : 300 / Total area : Approx. 1652㎡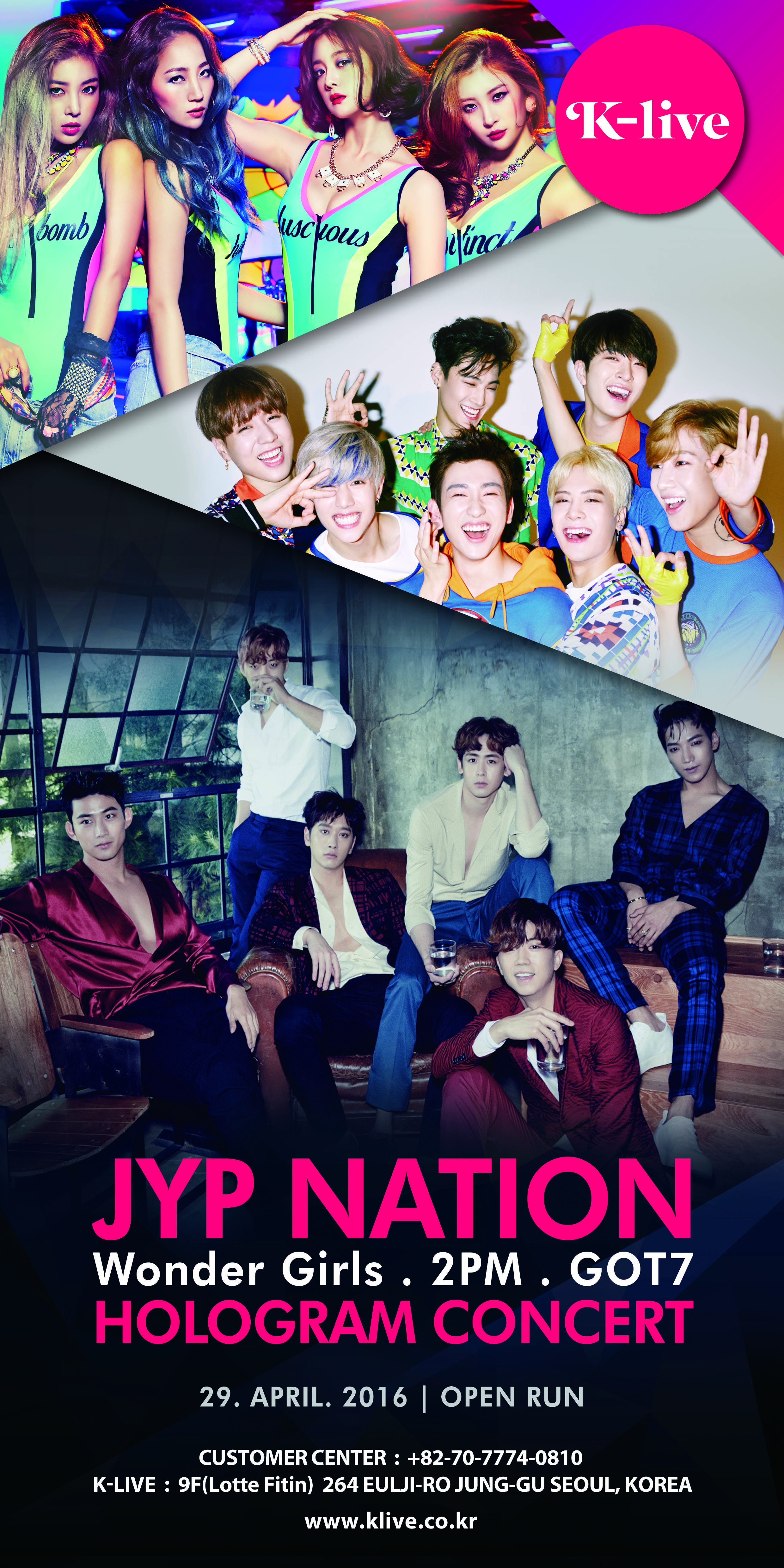 1. I made an online reservation, but I want to change the date.
If you want to change the reservation date, you need to cancel the reservation first, and reserve again. However, by the reservation cancelled date, you can't get refund, and there might be cancellation fees will be applied.
2. What is the age restriction for children?
Children of all ages may enter. Loud noises and strong vibrations may occur during the performances, and pregnant women, the elderly and weak, and children under 3 are advised to be careful.
3. I'm arriving by public transport.
You can come to Lotte Fitin 9th floor through the Dongdeamun history cultural station exit 11, 12. For detailed instructions on bus lines, please consult the directions posted on the website.
4. Can I take my own pictures of the performance as a souvenir?
Taking pictures, videos or sound recordings of the performance is prohibited, as a violation of publicity rights and copyrights. Such behaviors may obstruct the performances of the performers and comfortable viewing by other members of the audience.
5. Is food allowed into the performance?
Food is not allowed in the hologram concert hall.
Please understand this is necessary to maintain a comfortable performance hall environment. Please finish all food items before entering.
6. Can I enter the performance hall after the performance beings?
Entry into the performance hall is restricted after the performance begins. You may be guided into the performance hall by the house manager or the performance director through a separate entrance. The house manager or performance director will permit access into the performance hall only at certain times, so as to prevent disturbing the performance.
However, if the performer requests that audience members who arrive late are not allowed access, access may not be permitted. Late audience members are by default not allowed access. On-time arrival is an implicit promise among all other members of the audience, and entering the performance hall late may disturb other audience members who have arrived early and are enjoying the performance.
This you've got to have! The K-pop star products offered by K-live Some 1,000 album, clothing, accessories and stationery products from 50 K-pop start groups are offered for sale. Korea's largest official K-pop merchandise store K-live Limited Edition products, only available at K-live, are also offered.
Key products : CDs, DVDs, Official goods, glow in the dark rods, slogans, photo albums, posters, calendars, tumblers, clothing, keyrings, collection cards, eco bags, etc.
K-live Limited Edition products : cheering baton+slogan, watches, bracelets, card wallets, soap, nail stickers, beanie+button, mug cups, performancep rogram book, stamps + post card + hologram card set, reflective leather bracelets (t 5 types), image pickets, stap bags
How to purchase : Pick up product and check out at the counterLocation : K-live, Dongdaemun Lotte FitIn Lv.9Telephone: (Include if MD shop telephone number is released)Some products are available for purchase online. Online purchase site: K.ART
www.ilovekart.com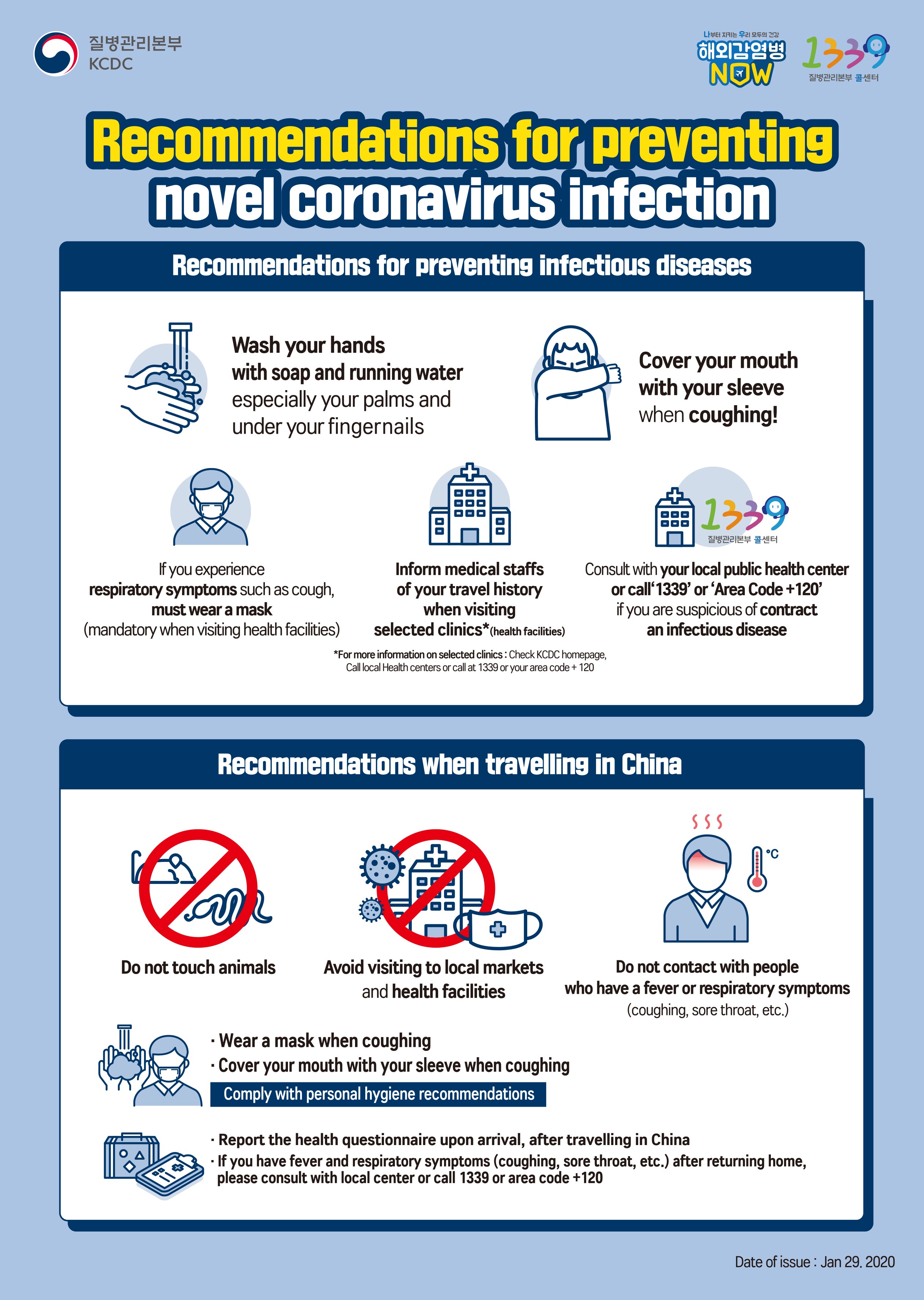 韓国旅行情報のすべて : トリップポーズ http://www.trippose.com
South Korea travel tips and articles : TRIP-PROPOSE http://en.trippose.com
韩国旅游提示和文章 : TRIP-PROPOSE http://cn.trippose.com
韓國旅遊提示和文章 : TRIP-PROPOSE http://tw.trippose.com / http://hk.trippose.com

Suggested popular information of in Korea
Suggested popular information of Esthe/Spa in Korea
Suggested popular information of in Korea
Suggested popular information of Coupon in Korea
(Korea Discount Coupon)
Utilization information
・Maximum Occupancy : 350 people
・Information : • 1330 Travel Hotline: +82-2-1330 (Korean, English, Japanese, Chinese)
• For more info: +82-2-2265-0810 (Korean)
・Parking Facilities : 160 parking spaces (small cars up to 2000 cc only)
・Parking Fees : Free for the first 2 hours
・Closed : Mondays, New Year's Day, Chuseok (Korean Thanksgiving Day)
・Admission Fees : [K-POP Experience]
Individuals 15,000 won
Children 12,000 won

[G-Dragon "Awake"]
Individuals 33,000 won
Children 16,500 won
・Operating Hours : [Operating Hours]
13:00-21:00

[Performance times]
13:00-18:00 Big Bang, 2NE1, Psy hologram performance (30 min)
19:00 / 20:00 G-Dragon hologram performance (40 min)
・Structure Size : Exhibition area: 1,653 m2
・Duration : O
Program Information
Digital Attractions: Dance performance, hologram concert
K-live Attractions: Augmented reality show, Secret Window, Star Giant Tower, Star Lounge, Start Photo Box


Foreign Language Intepretation Services
English - (4 times a day) 14:15, 16:15, 18:15, 20:15
※ Closed on Mondays
※ Tel: +82-2-2265-0810

General Overview
※ Tel: +82-2-2265-0810
Reservation
| Product | Normal Price | Trippse Price |
| --- | --- | --- |
| <YG FAMILY> PSY / BIGBANG / G-dragon_short ver. (40min) K-POPEXPERIENCE 4TIME (16:00) | 13 USD | 7 USD |
| <YG FAMILY> PSY / BIGBANG / G-dragon_short ver. (40min) K-POPEXPERIENCE 5TIME (17:00) | 13 USD | 7 USD |
| <BIGBANG SPECIAL with Krunk> BIGBANG / G-dragon + a Behind Story (50min) PRIMIUM 6TIME (18:00) | 29 USD | 12 USD |
| <BIGBANG SPECIAL with Krunk> BIGBANG / G-dragon + a Behind Story (50min) PRIMIUM 8TIME (20:00) | 29 USD | 12 USD |
| <JYP NATION_Premiere> 2PM / GOT7 / WONDER GIRLS (45min) PRIMIUM 7TIME (19:00) | 29 USD | 12 USD |
Access
K-LIVE HOLOGRAM CONCERT SCHEDULE (16.12.24~17.01.31)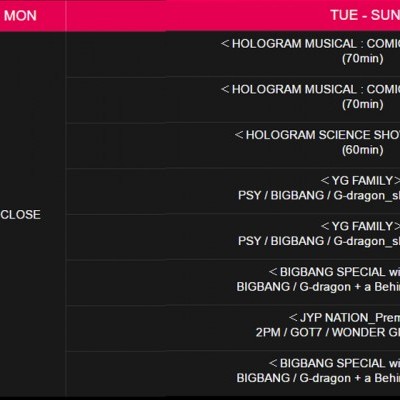 * Closed every Monday
▶The premier K-live location at Korea's largest fashion mecca, Dongdaemun!
Located on floors 9 and 10 of Lotte FitIn, opposite Dongdaemun History & Culture Park!
▶Subway
Dongdaemun History & Culture Park Station (Lines 2, 4, and 5) exits 11 and 12 (connected by underground path)
▶Bus
Dongdaemun History & Culture Park Station Stop
Blue buses : 105, 144, 152, 261, 301, 420, 407
Green buses : 7212, 2014, 2233
Airport bus : 9403
Gwanghee-dong Stop
Blue buses : 100, 105, 144, 301, 420, 407
Green buses: 7212
Euljiro 6-ga, National Medical Center stop
Blue buses : 100, 105, 202, 152, 261, 407
Green buses : 2014

Euljiro Co-op Residence Stop
Airport bus : 6001
▶From Incheon/Gimpo International Airports
Bus number / Fee :
No. 6001 / 14,000 Won
Bus stop information :
Incheon International Airport Lv. 1, Gates 6A and 12B
Path :
Incheon International Airport → Gimpo Airpot→Gonghang-no → Shinyongsan Station → Seoul Station → Namdaemun Market (Bank of Korea) → Ibis Hotel Myeongdong → Seoul Roya Hotel (Euljiro Ipgu)→Best Western Gukdo Hotel (Euljiro 4-ga) → Acacia Hotel → Euljiro Co-op Residence (Disembark) → Walk 200m toward Dongdaemun History & Culture Park Station → Arrive at Lotte FitIn
264 Eulji-ro, Jung-gu, Seoul
Traffic information
Subway Line 5 Dongdaemun History & Culture Park (동대문역사문화공원)- 99.9m
Subway Line 2 Dongdaemun History & Culture Park (동대문역사문화공원)- 99.9m
Subway Line 4 Dongdaemun History & Culture Park (동대문역사문화공원)- 99.9m
Subway Line 1 Dongdaemun (동대문)- 675.7m
Subway Line 4 Dongdaemun (동대문)- 675.7m
Review(2)
映像がすごく綺麗でした!
クーポンを使って安く行けて大満足でした。
いい旅の想い出ができました~~